Morrowind:Imperial Legion
The UESPWiki – Your source for The Elder Scrolls since 1995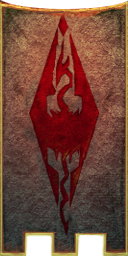 The Imperial Legion, also known as the Imperial Army, is the terrestrial component of the armed forces of the Empire of Tamriel. It operates under the auspices and with the authority of the Emperor himself, and, with its vast numbers, quality training, and rigid discipline, is considered one of the most powerful fighting forces ever assembled in history.
While in peacetime the Legion serves primarily as a garrison force, manning forts, patrolling roads, and providing guardsmen for towns, cities, counties, and nobles, in wartime the Legion's responsibilities and powers are greatly increased. During conflicts, the Legion serves as an invading and occupying force, overwhelming opposition with numerical superiority and strict economy of force.
The primary mission of the Imperial Legion is to preserve the peace and rule of law in the Empire.
The Legion is a strictly hierarchic organization. Each fort is usually commanded by a Champion (smaller forts), or any higher-ranking Knight (larger ones). The commander of a fort is usually called 'captain' or 'General'. Only Knights may serve as generals. A Knight of the Imperial Dragon is the highest-ranking Legion officer in any District.
A special Legion platoon comprises the guard of any Duke in the province of Morrowind, the Duke of Vvardenfell, for instance. These soldiers are among the best the Legion has to offer; the most accomplished soldiers of the Duke's guard have the honor of serving as personal Palace guard to the King of Morrowind.
[edit]
Joining the Imperial Legion
There is only one person in the Imperial Legion to whom you can speak for admission -- General Darius, who can be found in the Madach Tradehouse in Gnisis. Fort Darius is the only fort in the Imperial Legion that is admitting new members at this time in Vvardenfell.
[edit]
Imperial Legion Ranks
[edit]
Imperial Legion Quests
In order to receive any of your quest orders you must be wearing a uniform Imperial Legion cuirass. When you first join the legion, you are given an Imperial Chain Cuirass which satisfies this requirement. The four other cuirasses that you receive from the legion as your rank increases are also acceptable (Imperial Steel Cuirass, Imperial Templar Knight Cuirass, Duke's Guard Silver Cuirass and the unique Lord's Mail). Your armor other than your cuirass can be of any style. Talking to a superior officer while out of uniform results in a disposition loss of five points and a refusal of the character to continue the conversation; however you do not need to wear your uniform to talk to characters of equal or lower rank. If you lose your Imperial cuirass, the article on Imperial Armor provides a list of locations where replacements can be found.
Three Legion quests didn't make it into the final version of the game. Information on them can be found here.
[edit]
Imperial Legion Members
| Character Name | | Race | Class | Ranking | Location | Comments |
| --- | --- | --- | --- | --- | --- | --- |
| Joncis Dalomax | | Breton | Knight | 5 Knight Errant | Ashurnibibi, Shrine | |
| Shardie | | Redguard | Crusader | 3 Agent | Buckmoth Legion Fort | Trainer |
| Aldaril | | Altmer | Battlemage | 4 Champion | Buckmoth Legion Fort, Interior | Battlemage Service |
| Allian Carbo | | Imperial | Warrior | 1 Spearman | Buckmoth Legion Fort, Interior | |
| Arnand Liric | | Breton | Healer | 3 Agent | Buckmoth Legion Fort, Interior | Priest Service |
| Attelivupis Catius | | Imperial | Drillmaster | 2 Trooper | Buckmoth Legion Fort, Interior | Drillmaster Service |
| Dulian | | Redguard | Priest | 2 Trooper | Buckmoth Legion Fort, Interior | Priest Service |
| Hingor | | Bosmer | Scout | 2 Trooper | Buckmoth Legion Fort, Interior | Trainer |
| Imsin the Dreamer | | Nord | Master-at-Arms | 7 Knight Protector | Buckmoth Legion Fort, Interior | Trainer |
| Raesa Pullia | | Imperial | Knight | 4 Champion | Buckmoth Legion Fort, Interior | |
| Yambagorn gor-Shulor | | Orc | Smith | 2 Trooper | Buckmoth Legion Fort, Interior | Smith Service |
| Iratian Albarnian | | Imperial | Master-at-Arms | 2 Trooper | Caldera, Shenk's Shovel | Trainer |
| Jonus Maximus | | Imperial | Guard | 6 Knight Bachelor | Ebonheart | |
| Company Guard | | Imperial | Guard | 1 Spearman | Ebonheart, East Empire Company Hall | |
| Duke's Guard | | Imperial | Guard | 4 Champion | Ebonheart, Grand Council Chambers | |
| Llaalam Dredil | | Dunmer | Savant | 6 Knight Bachelor | Ebonheart, Grand Council Chambers | |
| Varus Vantinius | | Imperial | Warrior | 9 Knight of the Imperial Dragon | Ebonheart, Grand Council Chambers | |
| Matus Mido | | Imperial | Spellsword | 4 Champion | Ebonheart, Grand Council Chambers Tower | |
| Alodie Jes | | Breton | Warrior | 6 Knight Bachelor | Ebonheart, Hawkmoth Legion Garrison | |
| Aumsi | | Nord | Master-at-Arms | 4 Champion | Ebonheart, Hawkmoth Legion Garrison | Trainer |
| Ervona Barys | | Dunmer | Battlemage | 6 Knight Bachelor | Ebonheart, Hawkmoth Legion Garrison | Battlemage Service |
| Fanildil | | Altmer | Healer | 2 Trooper | Ebonheart, Hawkmoth Legion Garrison | Healer Service |
| Frald the White | | Nord | Warrior | 7 Knight Protector | Ebonheart, Hawkmoth Legion Garrison | |
| Landorume | | Altmer | Trader | 3 Agent | Ebonheart, Hawkmoth Legion Garrison | Trader Service |
| Nebia Amphia | | Imperial | Priest | 3 Agent | Ebonheart, Hawkmoth Legion Garrison | Priest Service |
| Nedhelorn | | Bosmer | Drillmaster | 4 Champion | Ebonheart, Hawkmoth Legion Garrison | Drillmaster Service |
| Norring | | Nord | Warrior | 2 Trooper | Ebonheart, Hawkmoth Legion Garrison | |
| Sirollus Saccus | | Imperial | Smith | 4 Champion | Ebonheart, Hawkmoth Legion Garrison | |
| Augurius Sialius | | Imperial | Guard | 6 Knight Bachelor | Ebonheart, Hawkmoth Towers | |
| Duke's Guard | | Imperial | Warrior | 4 Champion | Ebonheart, Imperial Commission | |
| Duke's Guard | | Imperial | Battlemage | 4 Champion | Ebonheart, Imperial Commission | |
| Rufinus Alleius | | Imperial | Acrobat | 3 Agent | Ebonheart, Imperial Commission | |
| Tuvene Arethan | | Dunmer | Savant | 6 Knight Bachelor | Ebonheart, Imperial Commission | |
| Birard Adrognese | | Breton | Warrior | 4 Champion | Ebonheart, Imperial Guard Garrison | |
| Cavortius Albuttian | | Imperial | Warrior | 8 Knight of the Garland | Ebonheart, Imperial Guard Garrison | |
| Ekkhi | | Nord | Battlemage | 4 Champion | Ebonheart, Imperial Guard Garrison | |
| Frostien Ephine | | Breton | Warrior | 4 Champion | Ebonheart, Imperial Guard Garrison | |
| Glallian Maraennius | | Imperial | Priest | 6 Knight Bachelor | Ebonheart, Imperial Guard Garrison | |
| Jelin | | Redguard | Warrior | 4 Champion | Ebonheart, Imperial Guard Garrison | |
| Sader | | Redguard | Warrior | 4 Champion | Ebonheart, Imperial Guard Garrison | |
| Viccia Claevius | | Imperial | Priest | 4 Champion | Ebonheart, Imperial Guard Garrison | |
| Vinnus Laecinnius | | Imperial | Pilgrim | 2 Trooper | Ebonheart, Six Fishes | Trainer |
| Bedraflod | | Nord | Savant | 2 Trooper | Ebonheart, Skyrim Mission | |
| Briring | | Nord | Barbarian | 2 Trooper | Ebonheart, Skyrim Mission | |
| Eiruki Hearth-Healer | | Nord | Barbarian | 2 Trooper | Ebonheart, Skyrim Mission | |
| Heidmir | | Nord | Noble | 6 Knight Bachelor | Ebonheart, Skyrim Mission | |
| Ingokning | | Nord | Assassin | 6 Knight Bachelor | Ebonheart, Skyrim Mission | |
| RaccanBM | | Redguard | Guard | 3 Agent | Fort Frostmoth | |
| Severia GratiusBM | | Imperial | Guard | 4 Champion | Fort Frostmoth | |
| Vilbia HerenniaBM | | Imperial | Guard | 2 Trooper | Fort Frostmoth | |
| Zeno FaustusBM | | Imperial | Guard | 3 Agent | Fort Frostmoth, Armory | |
| Falx CariusBM | | Imperial | Guard | 7 Knight Protector | Fort Frostmoth, Carius' Chambers | |
| Gaea ArtoriaBM | | Imperial | Guard | 3 Agent | Fort Frostmoth, General Quarters, Upper Level | |
| Dul gro-Dush | | Orc | Warrior | 1 Spearman | Gnisis | |
| Largakh gro-Bulfim | | Orc | Guard | 1 Spearman | Gnisis | |
| Molvirian Palenix | | Imperial | Guard | 0 Recruit | Gnisis | |
| Ughash gro-Batul | | Orc | Guard | 1 Spearman | Gnisis | |
| Vatollia Apo | | Dunmer | Guard | 1 Spearman | Gnisis | |
| Yashnarz gro-Ufthamph | | Orc | Guard | 1 Spearman | Gnisis | |
| Ragash gra-Shuzgub | | Orc | Warrior | 0 Recruit | Gnisis, Arvs-Drelen | |
| Optio Bologra | | Orc | Drillmaster | 0 Recruit | Gnisis, Barracks | Trainer |
| Strillian Macro | | Imperial | Spellsword | 2 Trooper | Gnisis, Barracks | |
| Vantustius Pundus | | Imperial | Warrior | 1 Spearman | Gnisis, Barracks | |
| Varian Angius | | Imperial | Battlemage | 2 Trooper | Gnisis, Barracks | |
| Vertilvius Cines | | Imperial | Warrior | 1 Spearman | Gnisis, Barracks | |
| Bagamul gro-Dumul | | Orc | Guard | 1 Spearman | Gnisis, Fort Darius | |
| Bogdub gra-Gurakh | | Orc | Guard | 1 Spearman | Gnisis, Fort Darius | |
| Mug gro-Dulob | | Orc | Smith | 1 Spearman | Gnisis, Fort Darius | |
| Sharkub gro-Khashnar | | Orc | Drillmaster | 3 Agent | Gnisis, Fort Darius | Drillmaster Service |
| Uloth gra-Ushar | | Orc | Guard | 1 Spearman | Gnisis, Fort Darius | |
| Ulumpha gra-Sharob | | Orc | Healer | 1 Spearman | Gnisis, Fort Darius | Healer Service |
| Yambul gro-Bogrol | | Orc | Guard | 1 Spearman | Gnisis, Fort Darius | |
| Lugrub gro-Ogdum | | Orc | Warrior | 2 Trooper | Gnisis, Lower Eggmine | |
| Asha-Ammu Kutebani | | Dunmer | Scout | 1 Spearman | Gnisis, Madach Tradehouse | Trainer |
| Clilias Pullia | | Imperial | Guard | 0 Recruit | Gnisis, Madach Tradehouse | |
| Darius | | Imperial | Knight | 7 Knight Protector | Gnisis, Madach Tradehouse | |
| Ertius Fulbenus | | Imperial | Warrior | 1 Spearman | Gnisis, Madach Tradehouse | |
| Nash gro-Khazor | | Orc | Guard | 2 Trooper | Gnisis, Madach Tradehouse | |
| Snakha gro-Marob | | Orc | Warrior | 1 Spearman | Gnisis, Madach Tradehouse | |
| Ondi | | Nord | Knight | 5 Knight Errant | Khuul, Thongar's Tradehouse | Trainer |
| Amarie Charien | | Breton | Healer | 2 Trooper | Moonmoth Legion Fort, Interior | Healer Service |
| Erla | | Redguard | Smith | 2 Trooper | Moonmoth Legion Fort, Interior | |
| Larrius Varro | | Imperial | Warrior | 4 Champion | Moonmoth Legion Fort, Interior | |
| Radd Hard-Heart | | Nord | Master-at-Arms | 7 Knight Protector | Moonmoth Legion Fort, Interior | Trainer |
| Urfing | | Nord | Trader | 2 Trooper | Moonmoth Legion Fort, Interior | |
| Solea Nuccusius | | Imperial | Battlemage | 2 Trooper | Moonmoth Legion Fort, Prison Towers | Battlemage Service |
| Angoril | | Altmer | Master-at-Arms | 7 Knight Protector | Pelagiad, Fort Pelagiad | Trainer |
| Shadbak gra-Burbug | | Orc | Smith | 1 Spearman | Pelagiad, Fort Pelagiad | |
| Hrisskar Flat-Foot | | Nord | Rogue | 2 Trooper | Seyda Neen, Arrille's Tradehouse | |
| Ganciele Douar | | Imperial | Guard | 1 Spearman | Seyda Neen, Census and Excise Office | |
| Sellus Gravius | | Imperial | Guard | 5 Knight Errant | Seyda Neen, Census and Excise Office | |
| Saprius Entius | | Imperial | Crusader | 4 Champion | Vivec, Arena Storage | |
| Din | | Redguard | Master-at-Arms | 1 Spearman | West Gash Region | |
| Dumbuk gro-Bolak | | Orc | Knight | 2 Trooper | Wolverine Hall | |