Lore:Firewatch
The UESPWiki – Your source for The Elder Scrolls since 1995
This page is currently being redesigned for the Lore Places Project (LPP).
The page may need work to meet the standards outlined on the project page.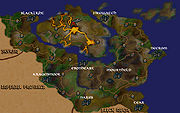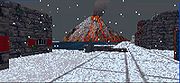 Firewatch is a snowy Imperial fort deep in House Telvanni territory, on the shores of the Sea of Ghosts. Located across the strait east of Tel Mora, Firewatch marks the northern tip of the mainland of the province of Morrowind. Firewatch takes it name from the vista of the giant volcano, Red Mountain. It was once home to a gladiatorial team known as the Blood Mages.[OOG 1] Sigillah Parate's grandmother, a Witch of Molag Bal, was once sent by the Prince to poison the heir of Firewatch, but died in the act.[1] During the Imperial Simulacrum the fort was at war with the neighboring city of Old Ebonheart, and was ruled by Queen Vaynth.[2]
[edit]
References
Note: the following references are not found in game. They are included to provide a rounder background to this article, but may not reflect established lore.