Lore:Gaiar Alata
The UESPWiki – Your source for The Elder Scrolls since 1995
This page is currently being redesigned for the Lore Places Project (LPP).
The page may need work to meet the standards outlined on the project page.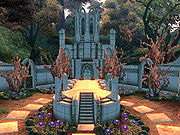 Gaiar Alata, also known as Paradise, is a realm of Oblivion created by Mankar Camoran. It was designed by Camoran to be a side dimension for the Deadlands. It is a Paradise only for Camoran himself; for his followers, it is a prison and torture chamber.
There are four things needed to open a portal to Paradise. The first is the blood of a Daedric lord, which is imbued in the artifacts that they give mortals for doing them favors. The second is a Great Welkynd Stone, an artifact created by the Ayleids before the beginning of recorded history. Third, they need the blood of a Divine; the only known sample of such blood is on the armor of Tiber Septim himself, who became a Divine when he conquered Tamriel in the beginning of the Third Era. Lastly, one needs a Great Sigil Stone, which can only be obtained from a Great Oblivion Gate.
Once inside Paradise, there is said to be only one way out: That is through the Forbidden Grotto. To enter the Forbidden Grotto, one must be wearing the Bands of the Chosen; however, those who Camoran gives the bands to, thinking they were freed from Paradise, can in fact never exit the other side of the Forbidden Grotto, and unless they remove the bands (which cannot be done without magical assistance), they will be forever trapped in the Forbidden Grotto, to be tortured by the Dremora for eternity (since they are already immortal, they cannot die, no matter what happens to them). A common method of such torture is being locked in a cage and being dunked in a river of lava. If the prisoners die from this torture, they are resurrected and killed again.
There is supposed to be no way out of Paradise once inside (the exit of the Forbidden Grotto was merely a ploy to trick the prisoners into entering the Grotto), yet the Champion of Cyrodiil was able to escape Paradise by killing Camoran (presumably, since Paradise's creator no longer existed, neither did the dimension).