Lore:Gods J
The UESPWiki – Your source for The Elder Scrolls since 1995
---
[edit]
Jephre, Elven God of Song and Forest
See Y'ffre.
[edit]
Jhunal, Rune God
The Nordic god of hermetic orders. After falling out of favor with the rest of that pantheon, he became Julianos of the Nine Divines. He is absent in modern Skyrim mythology.
[edit]
Jode, Big Moon God
Aldmeri god of the Big Moon. Also called Masser or Mara's Tear. In Khajiiti religion, Jode is only one aspect of the Lunar Lattice, or ja-Kha'jay.
[edit]
Jone, Little Moon God
Aldmeri god of the Little Moon. Also called Secunda or Stendarr's Sorrow. In Khajiiti religion, Jone is only one aspect of the Lunar Lattice, or ja-Kha'jay.
[edit]
Julianos, God of Wisdom and Logic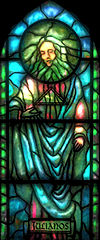 Often associated with Jhunal, the Nordic father of language and mathematics, Julianos is the Cyrodilic god of literature, law, history, and contradiction. In addition, he is usually associated with magic and thus often revered by wizards. Monastic orders founded by Tiber Septim and dedicated to Julianos are the keepers of the Elder Scrolls. Julianos' symbol is a Triangle. Julianos created the Shield of the Crusader for Pelinal Whitestrake, to help him defeat Umaril the Unfeathered.
[edit]
Jyggalag
Jyggalag is the Daedric Prince of Order, but until the Third Era not much was known about him in Tamriel beyond his name. Jyggalag commands his own Daedra, the Knights of Order, which are spawned from obelisks summoned by his followers, the Priests of Order.
For more information see the main lore page.