Lore:Sancre Tor
The UESPWiki – Your source for The Elder Scrolls since 1995
This page is currently being redesigned for the Lore Places Project (LPP).
The page may need work to meet the standards outlined on the project page.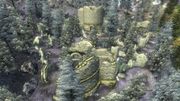 "But after nine months that mound of mud became as a small mountain, and there were whispers among the shepherds and bulls. A small community of believers gathered around that growing hill during the days of its first churning, and they were the first to name it the Golden Hill, Sancre Tor. And it was the shepherdess Sed-Yenna who dared climb the hill when she heard his first cry, and at its peak she saw what it had yielded, an infant she named Reman, which is 'Light of Man.'" — Remanada
Sancre Tor was a fortified city once conquered by Tiber Septim that later fell into ruins. The mythical birthplace of Reman Cyrodiil,[1] it is located in the Jerall Mountains in Colovia, north of the city of Chorrol.[2] In 2E 852, the city was captured by invading forces from High Rock and Skyrim.[3] General Talos, who would later become Tiber Septim, recaptured the city that winter,[3] however as the city was in a strategically inconvenient position it was then abandoned. The old fortress of Sancre Tor was later corrupted by the Underking, prompting it to be sealed shut by the Grandmaster of the Blades in the 36th Year of the Reign of Tiber Septim.[4] In the years after Tiber Septim's reign it was gradually forgotten, decaying into a haunted ruin. The Champion of Cyrodiil would visit the ruins in the year 3E 433 to recover the armor of Tiber Septim.[5]
[edit]
See Also
[edit]
References