Lore:Soul Cairn
The UESPWiki – Your source for The Elder Scrolls since 1995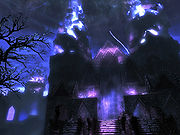 The Soul Cairn is a Realm of Oblivion where the undead seemingly roam free and invulnerable to any harm. Rather than being aligned to any Daedric prince, it is controlled by a race of gem-like beings calling themselves the Ideal Masters. The Masters believe that, by freeing mortals from life and dooming them to eternal undeath, they are being saved from meaningless hardship and gifted with peace. Their undead servants are forced to guard the realm forever. The few spirits which haven't been driven mad are embittered by betrayal, having been tricked by the Masters' ideals and lies, only to face a fate of everlasting nightmare and emptiness. The realm was once accessible from the voidgate of the Battlespire, but the link was severed after the citadel was destroyed.
The realm contains many structures associated with burial, such as the Coffin Chapel. The Chapel of Love is a building which contains the Emerald Gates, a portal which can be used to teleport to any of the outer realms, provided the user knows the name of the realm. The Emerald Gates are powered by the Mana Font, which is controlled by three rods, the Rod of the Pilot, the Rod of the Pillar, and the Rod of the Passage, collectively known as the Fingers of Life.
During Mehrunes Dagon's invasion of the Battlespire during the Imperial Simulacrum, the Daedric invasion force entered the realm for use as a waystation between their own realms and their newly conquered domains. This displeased the Ideal Masters, as the Daedra were destroying their undead servants and plundering their treasure.
Many mortal captives from the Battlespire were brought to this realm and murdered by the Daedric invaders, including Paxti Bittor and Kirel Aman, trapping their souls eternally unless freed. An apprentice from the Battlespire passed through the realm on a quest to save a fellow apprentice from Dagon. The hero freed many trapped spirits and was aided by the Ideal Masters in escaping the realm through the Emerald Gates into Shade Perilous.
Once they struggled, hammered, cried

Fought for justice, honor, pride.

Now from time and tide released

They guard and serve in silent peace[1]
Gallery
See Also
For game-specific information, see the Battlespire walkthrough and the Skyrim page.
References