Morrowind:Dagoth Reler
The UESPWiki – Your source for The Elder Scrolls since 1995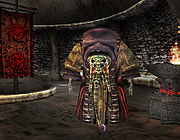 Dagoth Reler is an Ascended Sleeper who can be found at the Sixth House base of Kogoruhn, in the Dome of Urso. He is one of the few Ascended Sleepers capable of speech, and he may greet you before he attacks, depending on your personality and how far along you are in the Main Quest.
[edit]
Dialogue
Greeting 1 — What are you doing? You have no idea. Poor animal. You struggle and fight, and understand nothing.
Greeting 2 — A bug. A weed. A piece of dust. Busy, busy, busy.
Topic: "understand nothing" — You think what you do has meaning? You think you slay me, and I am dead? It is just dream and waking, over and over, one appearance after another, nothing real. What you do here means nothing. Why do we waste our breath on you?