Oblivion:Bloodworm Helm
The UESPWiki – Your source for The Elder Scrolls since 1995
Leveled Artifact: Bloodworm Helm (0007BE43)
(All statistics are for level 25+ version)
Type
Light Helmet
Editor ID
BloodwormHelm25
Statistics
 Rating
4.5
 Health
150
 Weight
5
 Value
1255
Enchantment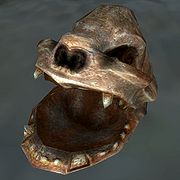 The Bloodworm Helm is a leveled light helmet encountered during The Bloodworm Helm quest in the Mages Guild questline. It must be given up after the quest and cannot subsequently be retrieved. The level 1-4 helm also allows you to cast the apprentice-level version of the Essence Drain spell when wearing the helm.
[edit]
Leveled Statistics
Level
Effects
1-4


00014673

5
150
255
4.5
Fortify Conjuration 2pts
5-9


0007BE3F

5
150
455
4.5
Fortify Conjuration 4pts
10-14


0007BE40

5
150
655
4.5
Fortify Conjuration 6pts
15-19


0007BE41

5
150
855
4.5
Fortify Conjuration 8pts
20-24


0007BE42

5
150
1055
4.5
Fortify Conjuration 10pts
25+


0007BE43

5
150
1255
4.5
Fortify Conjuration 12pts
The higher level versions of the helm are supposed to also provide higher level Essence Drain spells when worn, but due to a glitch in the helm scripts you do not get any spell at all for all but the lowest-level one. Also the spell can stick to the player permanently after the helm is removed.