Oblivion:Fort Coldcorn
The UESPWiki – Your source for The Elder Scrolls since 1995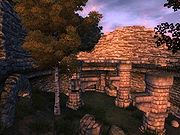 Fort Coldcorn is a small fort between the Imperial City and Chorrol containing monsters (quest-related). It contains only one zone, Fort Coldcorn.
[edit]
Related Quests
The Unbeaten Path: Follow the clues given to you by a mysterious note and a strange longsword in order to find an unusual treasure (non-journal).
On the eastern side of the fort are a sword and a chest. Do not touch the sword. Read the note in the chest and see if you can figure it out. If not, read the details at The Unbeaten Path.
[edit]
Exterior
The exterior is located at coordinates: Tamriel -6, 23
This location's map marker (M on map) is named Fort Coldcorn (editor name FortColdcornMapMarker). The entrance door is ENE of the marker, 130 feet away.
0-2 Monsters are near the entrance
1 Wilderness Creature (Forest variety) is near the entrance
1 Chest (contains Note of Bounty, Key of Hidden Wealth, 10% chance scroll, 10% potion, 10% soul gem, 10% enchanted jewelry, 10% unenchanted jewelry, 5% enchanted weapon; non-respawning) is at location C on map
The following weapons can be found near the entrance: 1 Fine Steel Longsword
The following plants can be found near the entrance: 20 Bergamot plants, 3 Fly Amanita plants, 1 Green Stain Cup plant, 4 Monkshood plants, 8 Motherwort plants, and 11 Steel-Blue Entoloma plants
[edit] Zone 1: Fort Coldcorn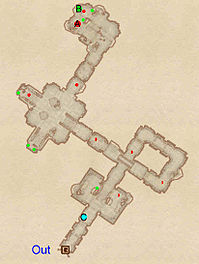 The dungeon is relatively small and linear but contains enough loot to be worth exploring. Simply follow the corridors to the final room where you will find the boss chest (B on the map) protected by a boss monster (A) and a regular monster. You will then have to retrace your steps to exit from the dungeon.
The only other unusual item in the dungeon is the Dead Marauder at C. However, the other chests in the dungeon are all monster dungeon containers, so it's worth the time to unlock the standard chests in case they contain enchanted items.
Occupants:
1 boss-level Monster at location A on map
3 Monsters
0-4 Monster Enemies (each 80% probability Monster, 20% Rat)
Treasure:
Doors and Gates:
There is one door (at Out) in/out of this zone, leading outside
Other:
1 Dead Marauder (wearing Iron Boots and an Iron Cuirass) at location C on map