Oblivion:Fort Redman
The UESPWiki – Your source for The Elder Scrolls since 1995
This page is currently being redesigned for the Oblivion Places Redesign Project (OPRP). The page needs in-game walkthrough(s) to go along with the maps and content lists. If you make an addition to this page, please update this template accordingly, but make sure you have observed the project guidelines.
Needs in-game verification. See the OPRP project page for explanation of what needs to be to complete the verification process.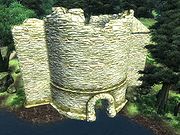 Fort Redman is a medium-sized fort between Bravil and Leyawiin containing vampires. It contains two zones: Fort Redman and Fort Redman Hall of Judges.
In the first zone, there is a giant skull that may be of interest to collectors. It is located behind a statue on a ledge that can be accessed after returning from the second zone through door D.
[edit]
Exterior
The exterior is located at coordinates: Tamriel 22, -25
This location's map marker (M on map) is named Fort Redman (editor name FortRedmanMapMarker). The entrance door is NE of the marker, 40 feet away.
1 Melee campsite Bandit is near the entrance
0-2 Mud Crabs are near the entrance
2 Nirnroots are at locations N on map
1 Chest 02 is near the entrance
1 Jewelry Box (contains 1-3 unenchanted jewelry, 10% chance enchanted jewelry, 25% potion; non-respawning) is near the entrance
1 Wilderness Chest 01 (non-respawning) is near the entrance
[edit] Zone 1: Fort Redman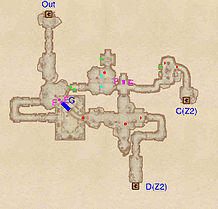 This zone has sections that are underwater
Occupants:
Treasure:
Traps:
Doors and Gates:
There are three doors in/out of this zone

1 door (at Out) leads outside
2 doors (at C and D) lead out of dungeon to Fort Redman Hall of Judges and Fort Redman Hall of Judges

1 Drawbridge (initially raised) at G
[edit] Zone 2: Fort Redman Hall of Judges
Occupants:
1 boss-level Vampire (50% chance Vampire Matriarch, 50% chance Vampire Patriarch) at location A on map
2 Vampire Beasts (level-dependent Rat, Wolf, or Timber Wolf)
2 Vampires
Treasure:
Traps:
Doors and Gates: