Oblivion:Grayrock Cave
The UESPWiki – Your source for The Elder Scrolls since 1995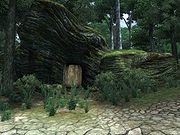 Grayrock Cave is a medium-sized cave east-northeast of Skingrad containing monsters. It contains two zones: Grayrock Cave and Grayrock Shambles.
[edit]
Exterior
The exterior is located at coordinates: Tamriel -10, 4
This location's map marker (M on map) is named Grayrock Cave (editor name GrayRockCaveMapMarker). The entrance door is ENE of the marker, 50 feet away.
0-2 Monsters are near the entrance
The following plants can be found near the entrance: 3 Alkanet plants, 2 Flax plants, 6 Monkshood plants, 1 Strawberry bush, and 1 Viper's Bugloss plant
[edit] Zone 1: Grayrock Cave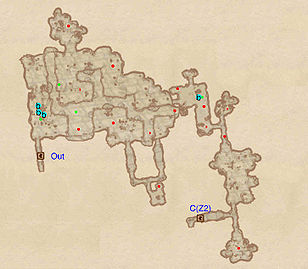 When you enter Grayrock Cave it becomes apparent that this cave may have had human occupants before the monsters arrived; a big pile of bones is scattered in the first small tunnel and three bedrolls at b can be found inside the first large chamber. The bedrolls are placed atop of a plateau and you can jump easily to the other high plateaus, although it will net you nothing but a potion chest and several encounters with leveled monsters. Jump down from the plateaus and locate the eastern passageway and make your way to door C, leading to the second zone, Grayrock Shambles.
Occupants:
Treasure:
Doors and Gates:
There are two doors in/out of this zone
Other:
4 bedrolls at locations b on map
[edit] Zone 2: Grayrock Shambles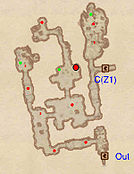 Upon entering Grayrock Shambles from door C, search the northern room and fight the opposition, then head south until the path bends and lands you in a smaller room. Head north for a chest and a possible encounter with a friendly Orc Adventurer (O), then locate the northwestern room for the last chest. Finally, leave the cave through door Out, which leads to an alternative entrance south of the map marker and west of Fort Vlastarus.
Occupants:
Treasure:
Doors and Gates:
There are two doors in/out of this zone