Oblivion:Nornalhorst
The UESPWiki – Your source for The Elder Scrolls since 1995
This page is currently being redesigned for the Oblivion Places Redesign Project (OPRP). The page needs in-game walkthrough(s) to go along with the maps and content lists. If you make an addition to this page, please update this template accordingly, but make sure you have observed the project guidelines.
Needs in-game verification. See the OPRP project page for explanation of what needs to be to complete the verification process.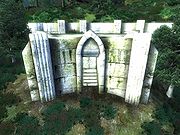 Nornalhorst is a medium-sized Ayleid ruin east of Skingrad containing vampires. It contains two zones: Nornalhorst and Nornalhorst Sel Gandrevla.
[edit]
Exterior
The exterior is located at coordinates: Tamriel -6, -1
This location's map marker (M on map) is named Nornalhorst (editor name NornalhorstMapMarker). The entrance door is W of the marker, 80 feet away.
2 Wilderness Creatures (Forest variety) are near the entrance
The following plants can be found near the entrance: 12 Alkanet plants, 2 Bergamot plants, 5 Columbine plants, 2 Dragon's Tongue plants, 4 Emetic Russula plants, 28 Flax plants, 1 Fly Amanita plant, 10 Lady's Smock plants, 13 Motherwort plants, 4 Nightshade plants, 2 Peony plants, and 11 Viper's Bugloss plants
[edit] Zone 1: Nornalhorst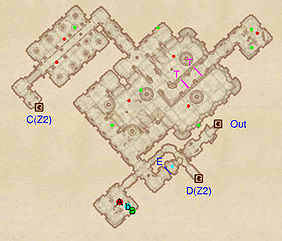 Occupants:
1 boss-level Vampire (50% chance Vampire Matriarch, 50% chance Vampire Patriarch) at location A on map
1 Vampire
5 Vampire Enemies (each 50% probability Vampire, 33% Undead, 17% Vampire Beast)
Treasure:
Traps:
Doors and Gates:
There are three doors in/out of this zone
1 Iron Gate (opened remotely) at E
Other:
1 sleeping slab at location b on map
[edit] Zone 2: Nornalhorst Sel Gandrevla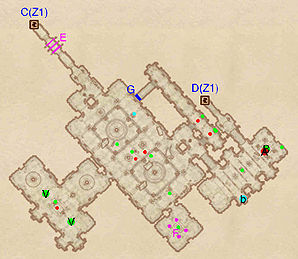 Occupants:
1 boss-level Vampire (50% chance Vampire Matriarch, 50% chance Vampire Patriarch) at location A on map
2 Vampires
1 Vampire Enemy (each 50% probability Vampire, 33% Undead, 17% Vampire Beast)
Treasure:
Traps:
Doors and Gates:
There are two doors (at C and D) in/out of this zone, both leading to the zone Nornalhorst
1 Hidden Door at G
Other:
1 bedroll at location b on map