Oblivion:Shadowhunt
The UESPWiki – Your source for The Elder Scrolls since 1995
Leveled Item: Shadowhunt (0003489D)
(All statistics are for level 30+ version)
Type
Bow
Editor ID
DBSteelBow30
Statistics
 Damage
10
 Health
100
Speed
1.0
 Weight
8
 Value
3678
Enchantment
Charge/Cost = Uses
9000/70=128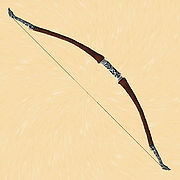 Shadowhunt is a bow that is given as a reward for the Dark Brotherhood quest, The Lonely Wanderer. In appearance it is identical to a steel bow.
Neither the Weakness to Poison nor the Turn Undead enchantment on the bow have a duration, at any level. Therefore, neither effect actually works on the weapon. Undead enemies fail to flee, and since Weakness to Poison only works on all poisons used after the effect is introduced, there is no poisoned attack fast enough to take advantage of Shadowhunt's instantaneous enchantment.
At high levels, the Turn Undead effect available from this bow is technically higher than any other available in the game. However, it is actually ineffective because of its zero duration (see previous note).
[edit]
Leveled Statistics
Level
Charge / Cost = Uses
Effects
1-4


00034897

8
100
94
10
100/12=8
Damage Health 5pts
Damage Magicka 5pts
Turn Undead up to level 3
Weakness to Poison 5%
5-9


00034898

8
100
237
10
450/18=25
Damage Health 7pts
Damage Magicka 7pts
Turn Undead up to level 7
Weakness to Poison 7%
10-14


00034899

8
100
401
10
850/29=30
Damage Health 10pts
Damage Magicka 10pts
Turn Undead up to level 12
Weakness to Poison 10%
15-19


0003489A

8
100
724
10
1650/36=47
Damage Health 12pts
Damage Magicka 12pts
Turn Undead up to level 17
Weakness to Poison 12%
20-24


0003489B

8
100
1429
10
3400/49=70
Damage Health 15pts
Damage Magicka 15pts
Turn Undead up to level 22
Weakness to Poison 15%
25-29


0003489C

8
100
2753
10
6700/58=115
Damage Health 17pts
Damage Magicka 17pts
Turn Undead up to level 27
Weakness to Poison 17%
30+


0003489D

8
100
3678
10
9000/70=128
Damage Health 20pts
Damage Magicka 20pts
Turn Undead up to level 32
Weakness to Poison 20%