Oblivion:Sundercliff Watch
The UESPWiki – Your source for The Elder Scrolls since 1995
This page is currently being redesigned for the Oblivion Places Redesign Project (OPRP). The page needs in-game walkthrough(s) to go along with the maps and content lists. If you make an addition to this page, please update this template accordingly, but make sure you have observed the project guidelines.
Needs data and walkthrough
# of Zones
12+
Occupants
NPCs, Vampires
Console Location Code(s)
DL09Exterior01a, DL09Exterior02; DL9c01 (Sundercliff Watch); DL9c02 (Sundercliff Village); DL9c03 (Sundercliff Commune); DL9c05 (Sundercliff Mines); DL9c06 (Sundercluff Forge); DL9c07 (Excavated Ruin); DL9c08 (Varsa Baalim); DL9c09 (The Nefarivigum); DL9c10 (Forgotten Tunnels); DL9c08house1 (Cava Arpenia); DL9c08house2 (Cava Beldameld); DL9c08house3 (Cava Marspanga);
Region
Nibenay Basin
Location
Far east of Bravil, east of Lake Canulus and very near the border of Cyrodiil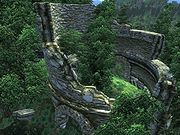 Sundercliff Watch is a very large fort far east of Bravil containing NPCs and vampires (plugin-specific).
[edit]
Related Quests
[edit]
People
This ruin only appears after you have installed the Unearthing Mehrunes Razor official plug-in.
This is a very large dungeon, which is more fully described on the quest page. The nine main zones are Sundercliff Watch, Sundercliff Village, Sundercliff Commune, Sundercliff Forge, Sundercliff Mines, Excavated Ruin, Varsa Baalim, Nefarivigum, and Forgotten Tunnels. Three smaller zones, Cava Arpenia, Cava Beldameld and Cava Marspanga link different areas of Varsa Baalim together, and in addition, there are multiple houses, side rooms, tents, etc., all of which are treated by the construction set as separate individual areas. Counting the main zones, the buildings, and side rooms in Varsa Baalim, there are 23 zones in Sundercliff Watch.