Oblivion:Taproot
The UESPWiki – Your source for The Elder Scrolls since 1995
Taproot


(000AF06E)

1
0.3
Alchemy Effects
1st
 Restore Luck
2nd
 Damage Endurance
3rd
 Resist Poison
4th
 Shock Shield
Sources
# Samples
3
# Plants
0
Creature
Spriggans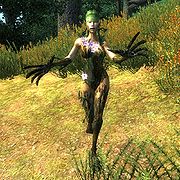 The ingredient Taproot is primarily collected from dead Spriggans.
Taproot is one of the few commonplace ingredients that cannot be duplicated in the Arch Mage's Enchanted Chest.
[edit]
Ingredients
3 guaranteed samples can be found in the following location:
3 samples are in Bravil Wizard's Grotto
It can also be found randomly in the inventories of alchemy vendors, starting at level 12.
[edit]
Creatures
Taproot can be collected from all varieties of dead Spriggans. Spriggans are most frequently encountered as randomly generated Monsters. In Monster Dungeons (circles on map), they will be found starting at level 13 (at levels 10 and 11 boss-level monsters are guaranteed to be Spriggans). Outdoors (squares on map), they are found in Swamp and Forest regions. In the wilderness they appear starting at level 13; along roads, they appear starting at level 11 (but only in Forest regions).
Places where Spriggans are guaranteed to appear are:
1 Spriggan will be your opponent in the Arena Grand Champion matches at levels 9-11, but only if you request three enemies; the other two enemies will be Mountain Lions.
If you have installed Knights of the Nine, 2 non-hostile Spriggans appear in Kynareth's Grotto at all levels. These are the only Spriggans to be found anywhere in the game before level 9. However, killing either of these spriggans will give you an Infamy point.
Boss-level monsters in monster dungeons are guaranteed to be Spriggans at levels 10-11, including (purple circles):