Oblivion:Weynon Priory (place)
The UESPWiki – Your source for The Elder Scrolls since 1995
Console Location Code(s)
WeynonPrioryExterior, WeynonPrioryHouse, WeynonPrioryLodge, WeynonPrioryChapel
Region
Great Forest
Location
South of Chorrol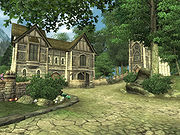 Weynon Priory is a chapel and house southeast of Chorrol (quest-related).
It is the setting for a part of the main quest; you can initially find Jauffre here. You can get a free horse here when you ask for Assistance from Prior Maborel.
It consists of three main buildings: the Lodge, the House, and the Chapel. The house is the main building. Here you can find Brother Jauffre, Prior Maborel, and sometimes Brother Piner. There are three free beds here. The lodge has a small interior where Eronor lives, and is not of much significance. The chapel is typically marble-walled. It is possible to access the roof of the chapel for a great view to the east and south.
[edit]
NPCs Living Here
[edit]
Related Quests
Weynon Priory can make a good house early on in the game. Jauffre's chest never respawns, and there are three beds you can sleep in for free.
Reynald Jemane was raised here after he was found next to the body of his mother by traveling merchants in the wilderness.