Oblivion talk:A Matter of Honor
The UESPWiki – Your source for The Elder Scrolls since 1995
I was able to sneak attack Alval for 6x damage and an instant kill while he sat upstairs in the Lonely Suitor Lodge. No bounty was incurred; I walked outside and the guards just wandered past me. His house in Leyawiin is open game after his death, assuming you loot his key.
moved from main page - needs to be taken out of 1st person:
I was planning on sabotaging him when something peculiar happened. On his trip away from (or to, now that I think about it) Skingrad he passes by "Derelic Mine" (slightly east of Skingrad) which is very close to the trail and very overrun by trolls. I was following him and he got attacked by the trolls, not wanting to fight the trolls myself, I simply ran past them on my horse and was going to wait for him to kill them (after all, he IS a master of destruction), then kill him myself. Soon enough, I get a journal entry saying he his dead. No bounty because I didn't kill him... All I really did was NOT save him. If he really is that weak, I can imagine you could have this in other ways. Example: Piss off a minotaur and run by him.
--GuildKnight | Talk contribs 22:01, 27 March 2007 (EDT)
He isn't even that difficult. The ""master of destruction"" was lying in a pool of blood at my feet with a couple arrows sticking out of him seconds after I began to fight him. Serves him right for all the times he threatend to ""turn my bones to ash"". Aldage 01:12, 8 October 2007 (EDT)
lol, it's so true. I just followed the arrow and found him running towards me on a path. Then I pulled out my bow, went in to sneak, and fired. He never figured out what hit him, even though I was ahead of him. One enchanted bow shot=he's dead and no one's the wiser. One arrow, headshot. --Ordon Crane 21:18, 4 December 2007 (EST)
[edit]
Limitless Food?
I gave him a poison apple and some mead in front of him at the tap and tac, and I am standing infront of him to make sure he eats it before he gets up, well he just keeps eating, does he have limitless food?
[edit]
just curious..
i ran into this guy before i had orders to kill him..he was a real asshole and i had half a mind to kill him then but i didnt, so know i wonder what would have happened if i had already killed him when i got the orders?
I saw him dead on the road from Skingrad to Imperial City. Apparently he was killed by a Timber Wolf which was nearby. I wonder if this affects any of the DB quests, which I have not started yet. [Zack - 27 Feb 2008]
According to the Notes in the article:
"Since Uvani travels through the wilderness often, he may already have been slain by monsters by the time you receive this quest. If so, the quest will immediately be completed and you will be directed to the next dead drop.". It is the same if you have killed him yourself. --Timenn < talk > 14:26, 27 February 2008 (EST)
I am very glad because I frequently encountered this guy in Olav's Tap and Tack when I wanted to barter with Ongar, and he pissed me off so much that I followed him into a room and attacked him. It's rather funny because right when a Bruma guard appeared, Alval yelled "By the Nine Divines!" and counterattacked me, and instead of arresting me, the guard killed the asshole for me.
[edit]
Alval Uvani not actually dead
(Following moved here from Oblivion:Glitches/Proposed)
In the quest 'A Matter of Honor', if you give Uvani a poison apple and ensure that the innkeeper has only mead, then wait a few hours, the journal tells you that he is dead, and you can continue with the Dark brotherhood questline. However, the mead's effect seems to take priority so he is alive, sprawled on a chair, rather irritated.
[edit]
Violent little Dunmer
Is it just my game, or does Alval have a lot of enemies? I've played through this questline three times, and all three times he was attacked, or attacked someone for no reason. In Bruma, for instance, he attacked Ongar for picking up a poisoned apple I dropped on the ground. Needless to say, the other patrons didn't take to kindly to that, and killed him. Reloading, he and Ongar immediately got into a fight, which nobody seemed to mind. Why is that? Sevvy 23:23, 6 August 2009 (UTC)
I haven't noticed this in-game before, so it may be just your game. Looking at it in the Construction Set, I don't see any particular reason why people should dislike him. By chance, did the fight break out while you were in Olav's Tap and Tack? If so, see the Bugs section there for what's going on. --Robin Hood (Talk • E-mail • Contribs) 01:02, 12 August 2009 (UTC)
[edit]
Getting Alval to eat at his home
Alval doesn't like to eat at his home in Leyawinn. I stalked him for weeks, he usually just comes home at ca. 2 p.m. on Sundays, goes to bed right away, then gets up and leaves. I removed all food from his house, from the basement, the ground floor and the upper floor and put 3 bottles of mead, on each dinner table a bottle respectively, there's a dinner table in the basement, one on the ground floor, one on the upper floor. Once he came home on Sunday, and went straight to bed. At 6 o'clock in the evening, he got up, went to the table and grabbed the mead bottle (upper floor, where his bed is). Then his drank it, while sitting in the chair next to the cupboard. Immediately afterwards I materialised, removing my chameleon clothing, equipped the skull of corruption and hit him. It does not count as an assault, cause nobody's there. The corrupted clone killed him using some enchanted dagger. I was also thinking of capturing his soul into a black soul gem, cause I don't feel like wasting any staff charges on such an idiot who can't even read a bottle label, but I didn't have an empty black soul gem at that moment. In any case, check out the screenshot: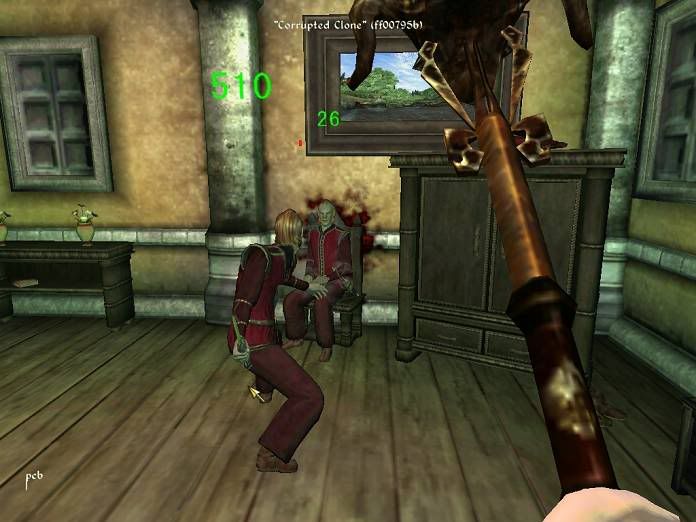 WRFan 15:16, 5 October 2009 (UTC)
[edit]
Expelled?
If you kill him before you complete The Purification does that mean you'll be expelled from the Brotherhood? Just thought it might of been usful to mention since he IS part of the Black Hand.— Unsigned comment by VergilSparda (talk • contribs) at 12:41 on 22 November 2009 (UTC)
As the article says: There won't be any consequences for killing him prior to this quest, even not while you are still under the Five Tenets. –Elliot talk 12:41, 22 November 2009 (UTC)

I Didn't see that, thanks :)--VergilSparda 17:19, 18 December 2009 (UTC)
[edit]
Um...glitch?
When i was ordered to kill him, he was in bravil. A second later, he was killed. Can anyone explain this?
(P. S. i only went to bravil ONCE, which was when i had to go to flooded mine. I didn't even go into the city!) 75.165.149.245 19:05, 6 August 2010 (UTC)