Skyrim:Calcelmo
The UESPWiki – Your source for The Elder Scrolls since 1995
Calcelmo
(RefID: 00019908)
Home City
Markarth
Store
Understone Keep
Race
Altmer
Gender
Male
Level
PC×1 (range=10-25)
Class
Conjurer
RefID
00019908
BaseID
0001338E
Merchant
Gold
500 (+500 Investor; +1000 Master Trader)
Sells
See Standard Merchandise
Buys
Spells (Books, Clothing, Daedric Artifacts, Jewelry, Scrolls, Soul Gems, Spell Tomes, Staves)
Other Information
Health
50+(PC-1)×8.3
Magicka
50+(PC-1)×6.7
Stamina
50
Primary Skills
Conjuration, Restoration, Alteration, Destruction
Perks
Augmented Frost (rank 1); Augmented Shock (rank 1); Mage Armor (rank 1); Magic Resistance (rank 1); Recovery (rank 1); Regeneration
Class Details
CombatMageConjurer
Moral.
No Crime
Aggress.
Unaggressive
Essential
Yes
Faction(s)
CrimeFactionReach; During sieges, staff and family hide.; MarkarthKeepFaction; ServicesMarkarthCastleWizard; TownMarkarthFaction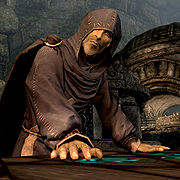 Calcelmo, Scholar of Markarth, is an Altmer conjurer of great renown who dedicates himself to researching the Dwemer. He and his nephew Aicantar study the Dwemer ruins beneath Markarth. He is the author of the series of books known simply as Dwarves. His next expected work is a book on the translation of the Falmer language which is tentatively titled Calcelmo's Guide to the Falmer Tongue. For other historical information, see the lore article.
He leads the excavation site in Understone Keep, together with Aicantar. To find him at his workplace, enter the keep and turn left (south), proceed a short distance through the "tunnel" (as others in the keep refer to the area) until you come to a short flight of steps. Turn and look west. His area is near an arcane enchanter and an alchemy lab.
Other characters seem to think of Calcelmo as a little eccentric, noting that all of his time is only spent researching the ruins. When first approached, he is very occupied with his work and almost refuses to converse. If you first attempt to enter the Dwemer Museum, the guard to its entrance will refer you to Calcelmo, who will then offer you the miscellaneous quest Kill Nimhe inside Nchuand-Zel. Calcelmo also has a crush on Faleen.
There are a number of pieces of scrap metal around his workshop that respawn periodically that yield a total of 21 Dwarven Metal Ingots when smelted. They are flagged as owned by Calcelmo, so taking them is considering stealing until you increase his disposition towards you.
Calcelmo wears blue mage robes and a pair of boots.
[edit]
Related Quests
[edit]
Displayed Merchandise
The following items are sitting out in the store, for example on the store counters. They can be purchased from the merchant, or else can be stolen. Other items may also be present in the store, but those other items are not available for purchase. They respawn after ten days.
Books: 1 Dwarves, v1, 1 Dwarves, v2
Ore/Ingots (req. Merchant perk): 1 Bent Dwemer Scrap Metal, 1 Dwemer Cog, 1 Dwemer Gyro, 1 Dwemer Lever, 1 Large Decorative Dwemer Strut, 1 Large Dwemer Strut, 1 Small Dwemer Plate Metal, 2 Solid Dwemer Metal
[edit]
Standard Merchandise
This is the merchandise found in Calcelmo's merchant chest. These items are only available if purchased from the merchant; they cannot be pickpocketed or stolen. They are restocked every two days.
[edit]
Spells
Calcelmo knows the following spells:
Characters in the game are not consistent in their pronunciation of his name. Some pronounce it "Cal-kel-mo", with a hard c, and others pronounce it "Cal-sel-mo", with a soft c. Some characters may even pronounce it both ways during their course of dialogue.
Several quests will increase Calcelmo's disposition, including The Book of Love and Nimhe, the Poisoned One.
Sometimes Calcelmo will sell his own ring you delivered to him which is fairly humorous because he gives you more gold for delivery then he sells it for (25 gold with high speech skill).