Skyrim:Drevis Neloren
The UESPWiki – Your source for The Elder Scrolls since 1995
Drevis Neloren
(RefID: 0001C1A6)
Home City
Winterhold
Location
College of Winterhold
Hall of Countenance
Race
Dunmer
Gender
Male
Level
PC×1 (range=10-50)
Class
Sorcerer
RefID
0001C1A6
BaseID
0001C198
Services
Training
Merchant
Gold
500 (+1000 Master Trader)
Sells
See Standard Merchandise
Buys
Spells (Books, Clothing, Daedric Artifacts, Jewelry, Scrolls, Soul Gems, Spell Tomes, Staves)
Other Information
Health
50+(PC-1)×8.3
Magicka
50+(PC-1)×5
Stamina
50+(PC-1)×1.7
Primary Skills
Destruction, Illusion, Heavy Armor, One-handed
Class Details
TrainerIllusionMaster
Moral.
Any Crime
Aggress.
Unaggressive
Essential
Yes
Faction(s)
College of Winterhold

(Wizard)

; CrimeFactionWinterhold; Drevis Neloren Services; Illusion Trainer; Skill Trainer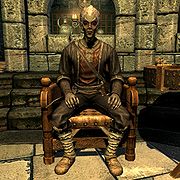 Drevis Neloren, a Dunmer sorcerer, is an instructor at the College of Winterhold, where you can normally find him in his room on the bottom floor of the Hall of Countenance. He is the master trainer for Illusion, able to train you to level 90. After you officially become part of the College, he will ask you to don some magical gloves for a quest where you have to cleanse various magicka focus points around the college, the reward for which is a few random soul gems. He will also give a quest for the master Illusion spells, and will sell many Illusion spells.
Drevis wears master robes of illusion and a pair of boots.
[edit]
Related Quests
[edit]
Standard Merchandise
This is the merchandise found in Drevis's merchant chest. These items are only available if purchased from the merchant; they cannot be pickpocketed or stolen. They are restocked every two days.
[edit]
Spells
Drevis knows the following spells:
The first time you talk with him, he thinks he is invisible.
After Mirabelle Ervine's death, he will make a strange inquiry about her: "Have you seen Mirabelle around? I know she's dead, but I thought... Well, I thought she might stop in and say hello anyway."