Skyrim:Eorlund Gray-Mane
The UESPWiki – Your source for The Elder Scrolls since 1995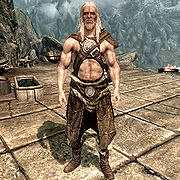 Eorlund Gray-Mane is a Nord blacksmith in Whiterun in charge of forging weapons and armor for the Companions at the Skyforge, located behind Jorrvaskr. He is married to Fralia Gray-Mane, with whom he has three children: Avulstein, Olfina and Thorald. He is also the brother of Vignar Gray-Mane.
Though Eorlund works closely with the Companions, he does not consider himself one of them, as his main concern is continuing his family's tradition of working the Skyforge. Nevertheless, he is very knowledgeable about their traditions and customs, and provides advice to new members and veterans alike. Additionally, as tender of the Skyforge he is the only person other than members of the Circle who is allowed to enter the underforge. After the death of Kodlak Whitemane, Eorlund, now in possession of all the fragments of Wuuthrad, repairs the legendary axe of Ysgramor and helps the remaining members of The Circle decide on their next course of action, advising them to seek answers at Ysgramor's Tomb, where the bodies of former Companions are buried.
Unlike the rest of his family, Eorlund is not a particularly staunch supporter of the Stormcloaks and has little interest in the ongoing civil war. Should the Stormcloaks gain control of the city, Eorlund will express only mild satisfaction: "Comes the end of the day, Imperials and Stormcloaks ain't much different. Both sides want to tell you how you should live your life. Guess I'd rather hear it from a real Nord than some Emperor down south." However, he also reveals more of his feelings when stating "Whiterun belongs to the true sons of Skyrim now, just as it should."
Eorlund is a master trainer in the Smithing skill, and is widely regarded as the best blacksmith in Skyrim, with Adrianne Avenicci calling his work "legendary". Oengul War-Anvil in Windhelm, on the other hand, does not speak so highly of Eorlund, attributing his reputation as a blacksmith to his luck of working the Skyforge.
Eorlund wears a set of hide armor with a matching pair of boots. He is equipped with a Skyforge steel sword, and carries a key to the clan's house, as well as a selection of upper-class loot and gold.
[edit]
Related Quests
[edit]
Standard Merchandise
This is the merchandise found in Eorlund's merchant chest. These items are only available if purchased from the merchant. However, you can access his merchant chest with a glitch (see "Bugs" below). They are restocked every two days.
You must join the Companions in order to receive training from Eorlund.
Eorlund's merchant chest is accessible via a glitch.
Training with Eorlund Gray-Mane sometimes does not raise Smithing level. ?
If in combat with him, the quest Glory of the Dead may not start properly.