Skyrim:Fletcher (place)
The UESPWiki – Your source for The Elder Scrolls since 1995
This article is being developed as part of the Skyrim Houses Redesign Project. If you see this tag it means the article can still be improved. Please see the project page for guidelines.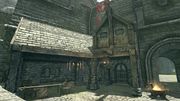 The Castle Fletcher is a store in Solitude that primarily sells bows and arrows. It is located on the outside of the walls of the Castle Dour courtyard, next to the Solitude Blacksmith. Fihada sells and buys bows, arrows, and other weapons; if Fihada dies, Jawanan runs the store in his place.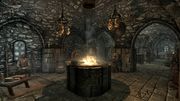 A copy of the Archery skill book The Gold Ribbon of Merit can be found in the store on a table directly to the left of the entrance. Less notably, the books Biography of Barenziah v3, Life of Uriel Septim VII, Immortal Blood, Spirit of Nirn, and The Wolf Queen can be found in the store, as well as other assorted items.
[edit]
NPCs Living Here
[edit]
Displayed Merchandise
The following items are sitting out in the store, for example on the store counters. They can be purchased from the merchant, or else can be stolen. Other items may also be present in the store, but those other items are not available for purchase. They respawn after ten days.
Weapons: 5 sets of leveled arrows, 2 leveled bows (up to Elven quality), 2 leveled bows (up to Daedric quality), 1 leveled dagger, 2 leveled war axes, 1 Ancient Nord Bow, 1 Hunting Bow, 1 Imperial Bow, 3 Iron Arrow, 1 Iron War Axe, 1 Long Bow, 12 Steel Arrow
[edit]
Standard Merchandise
This is the merchandise found in the Fletcher's merchant chest. These items are only available if purchased from the merchant; they cannot be pickpocketed or stolen. They are restocked every two days.
| Count | Item | Details |
| --- | --- | --- |
| 5 | Leveled Bows (enchanted) | |
| 5 | Leveled Arrows (batches of 12) | |
| 10 | Leveled Bows (unenchanted) | |
| ~23 | Low-level Arrows (batches of 10) | Max 30 (30@75%) |
| ~5 | Torches | Max 10 (10@50%) |
The key to this store, Key to Solitude Fletcher, works on Proudspire Manor's back door. Pickpocketing the key from Fihada allows for access to Proudspire Manor (and the unusual gem inside) without purchasing the home.
Fihada has the investment dialogue, allowing you to pay him 500 gold to invest in his store. However, investing in him has no actual effect—his gold is not permanently increased—because his merchant chest does not contain the PerkInvestorStoreUpgrade bonus gold.