Skyrim:General Tullius
The UESPWiki – Your source for The Elder Scrolls since 1995
This page or section is incomplete. You can help by adding to it.
Needs all dialogue, rather than random taunts and one bit of quest-related info
For more information, see the help files, the style guide, and this article's talk page.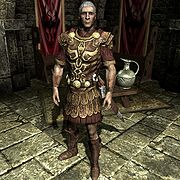 General Tullius is an Imperial General of the Legion and the military governor of Skyrim. Originally from Cyrodiil, he was sent to Skyrim to crush the Stormcloak Rebellion. A very taciturn and serious man, Tullius firmly believes that Ulfric Stormcloak and his rebellion are a threat to the Empire which has to be eradicated, and that Ulfric is nothing more than a power-hungry usurper. Amongst supporters of the Empire, Tullius is commonly regarded as their best hope for victory. He initially holds little interest in Nordic culture, viewing it as nonsense, but eventually he learns to respect it. Tullius also despises the Thalmor, and believes the Stormcloak Rebellion is a mere interlude in the Empire's real conflict with the Aldmeri Dominion, even going so far as to remark that they almost made him want to throw in with the Stormcloaks. He believes the entire rebellion can be blamed on the Thalmor, who stirred it up to force the Empire to waste precious resources and soldiers. For more information, see the lore article.
The General is first encountered during Alduin's attack on Helgen. He then relocates to Castle Dour in Solitude. Depending on your actions, he may also appear at Windhelm (on one occasion) or he may be killed.
Tullius wears a unique armor piece: General Tullius' Armor, along with Imperial light boots and light bracers. He defends himself with an Imperial sword and bow, supplemented by twenty steel arrows. He also carries a belted tunic. General Tullius cannot be pickpocketed.
Related Quests
Other Quests
Quest-Related Events
Diplomatic Immunity
He will only be at the Thalmor Embassy during this quest if you have finished the quest Message for Whiterun, and there is not a civil war attack going on. When met at the party, if you are in the Imperial Legion he may greet you by saying: "I wasn't expecting to see you here! I assume you have your reasons. Everyone does." or "Look around the room and you'll see what we're up against. Just between you and me, a lot of what Ulfric says about the Empire is true." or "I swear Elenwen holds these parties just to make the Empire look bad. Almost makes me want to join the Stormcloaks." or "The only reason I'm here is because my refusal to attend would cause a diplomatic incident." If you are a member of the Stormcloaks, Tullius may greet you by saying: "I need another drink." or "I don't remember seeing you at one of these before." or "Do I know you? I didn't think so."
In conversation, you can tell Tullius that it must be awkward for him, and he will reply by saying: "That's putting it mildly. The Thalmor invited me here to remind everyone that they can tell the Empire what to do. I would refuse, but I don't want to jeopardize the peace between us." You can ask him what he knows of the host, and Tullius will say: "Elenwen is a formidable woman. She lacks for neither cunning nor ambition. Now that I think of it, she would have made a fine Imperial general."
Combat Dialogue
Condition
Dialogue
Engaging an enemy
"Die villain!"
"I'll enjoy killing you!"
Taunting an enemy
"Getting tired yet?"
"Die, will you?!"
"I've seen fresh recruits with more skill than you!"
"I'm not impressed."
"I have no problem killing you. How do you feel about dying?"
"Ready to give up?"
Notes
He is voiced by Michael Hogan.
The version of General Tullius that is used in The Battle for Windhelm is actually a different NPC (baseid 000d0577), and does not carry a bow or arrows.
For the quest Missing In Action, he has some unused dialogue regarding Thorald Gray-Mane's release from Northwatch Keep. You could tell Tullius you need a prisoner released from Northwatch Keep. If you are a legate of the Imperial Legion, Tullius would have said: "The Thalmor? Do you have any idea what you're asking? I can only imagine the headaches this is going to cause... Here, take this. Assuming they even honor it, you should be able to get your prisoner out." Tullius would have then given you an Imperial order to show to the Northwatch Guard at the keep.