Skyrim:Iron-Breaker Mine
The UESPWiki – Your source for The Elder Scrolls since 1995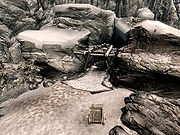 Iron-Breaker Mine is a mine in Dawnstar owned by Beitild, containing a few iron ore veins. The mine is just next to the White Hall. There is a smelter to the right of the entrance.
Ore vein locations:
One in the middle of the floor at the first intersection upon entering
One in the right short tunnel at the same intersection
Two at the end of the left tunnel, at the second intersection
Two at the far end of the long, narrow tunnel, past the hole in the floor
There is one loose iron ore hidden under a cart in the back of the mine. Beitild will buy iron ore from you.
[edit]
NPCs Living Here
[edit]
Related Quests
A copy of the Destruction skill book Response to Bero's Speech can be found on top of a barrel in the hallway to the left of the entrance.
There may be a glitch in the small tunnel in the mine where you cannot get through the tunnel. This is fixable by simply using a lunge power attack.