Skyrim:Maven Black-Briar
The UESPWiki – Your source for The Elder Scrolls since 1995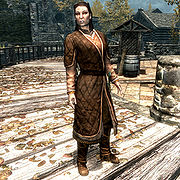 Maven Black-Briar is the matriarch of the Black-Briar family, and unofficially controls most of Riften. She is the mother of Hemming Black-Briar, and grandmother of Ingun and Sibbi. Maul is her right hand man and enforces her will in the city. She has strong ties with both the Thieves Guild and the Dark Brotherhood. Maven lives in Black-Briar Manor, although she spends most of her day inside The Bee and Barb. Maven seems to like strong-minded people and will complain about Brynjolf recruiting people with no back bone into the Thieves Guild, if the player apologizes to her when they first meet.
Her brewery, Black-Briar Meadery, is in fierce competition with Honningbrew Meadery, and Maven and will ask the player to put them out of business during the quest Dampened Spirits.
Maven makes no secret of her ties to the Thieves Guild and Dark Brotherhood, and often says she will call on the Dark Brotherhood to kill anyone who crosses her, in spite of any progress the player has made in either of these groups' questlines. These threats are empty though and she will never act on them. However, should the player choose to betray the Black-Briars in the quest Promises to Keep, a group of Black-Briar Mercenaries will be sent to kill the player.
Maven will become Jarl of Riften if the player chooses to aid the Imperial Legion in their Reunification of Skyrim, or trades Riften for Markarth during the negotiations in Season Unending. As Jarl, Maven will move into Mistveil Keep with Hemming and Maul and follow a different routine befitting her new station. She will proclaim that "My title is just a formality. I've always been in charge around here." Maven, as well as being a supporter of the Empire, admits that she even supports the Thalmor, during Diplomatic Immunity, explaining that she favors individuals with power.
In the basement of the Black-Briar Manor in Riften is a locked room containing the remains of a Black Sacrament ritual, as well as a letter from Maven Black-Briar complaining that her contract has not been carried out.
[edit]
Related Quests
Unlike other Jarls, Maven doesn't get exiled to Blue Palace if the Stormcloaks retake Riften and Laila Law-Giver becomes the Jarl again.
Lillith Maiden-Loom claims to friends with Maven, though Maven never mentions her.
If you chose to swap Markarth for Riften during Season Unending, and then take Riften for the Stormcloaks, both Laila Law-Giver and Maven Black-Briar will have the title "Jarl", even though it is only Laila who takes up residence in Mistveil Keep.
Some dialogue incorrectly identifies Maven as the mother of Ingun and Sibbi, while in actuality she is their grandmother.