Skyrim:Nightingale Boots
The UESPWiki – Your source for The Elder Scrolls since 1995
Leveled Item: Nightingale Boots (000fcc0d)
(All statistics are for level 32+ version)
Type
Light Armor
Editor ID
ArmorNightingaleBootsPlayer03
Statistics
 Rating
10
 Weight
2
 Value
5434
Tempering
Void Salts
Perk
None
Enchantment

Wearer is muffled and moves silently: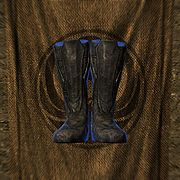 The Nightingale Boots are part of a set of armor given to the player for joining the Nightingales. Its enchantment grants a Muffle effect. Tempering the Nightingale Boots requires void salts and the Arcane Blacksmith perk.
The full set of Nightingale equipment also includes armor, gloves, and a hood.
[edit]
Related Quests
The enchantment magnitude of the highest-leveled boots is superfluous, as no Muffle effect greater than 1 point will make them any more effective.
[edit]
Leveled Statistics
| Level | | | | Enchantment | Object ID | Editor ID |
| --- | --- | --- | --- | --- | --- | --- |
| 1-18 | 2 | 295 | 10 | Wearer is muffled and moves silently: | 000fcc0c | ArmorNightingaleBootsPlayer01 |
| 19-31 | 2 | 295 | 10 | Wearer is muffled and moves silently: | 0005db85 | ArmorNightingaleBootsPlayer02 |
| 32+ | 2 | 5434 | 10 | Wearer is muffled and moves silently: | 000fcc0d | ArmorNightingaleBootsPlayer03 |