Skyrim:Septimus Signus's Outpost
The UESPWiki – Your source for The Elder Scrolls since 1995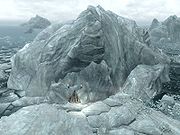 Septimus Signus's Outpost is a cave within a large iceberg north of Winterhold, containing Septimus Signus and a Dwemer Lockbox.
After walking a short stretch north from the College of Winterhold, an ice path will appear. When at the outpost, entrance can be gained by activating a trapdoor on the southern side of the cave.
There is a cupboard inside the cave which holds a sample of fire salts, a filled petty soul gem, a filled common soul gem, and a copy of the book Boethiah's Proving.
[edit]
Related Quests
Boethiah's Proving will not appear until the player reaches level 30.
[edit]
Gallery