Skyrim:Sightless Pit
The UESPWiki – Your source for The Elder Scrolls since 1995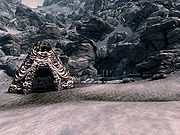 Sightless Pit is a medium-sized Dwarven ruin in Winterhold that is infested with Falmer. The entrance is located west of Shrine of Azura and marked by a single Falmer tent. Unlike most other caves you drop into this one, meaning that there is no way out and you have to fight through it to leave. There are a lot of vertical elements in this cave system and the creatures are all leveled. It can be a very difficult zone without both Resist Frost and Resist Poison even at high levels.
[edit]
Sightless Pit
The first zone is primarily a vertical descent down into the Dwarven ruins. When you drop into the cave system you'll be in a large pool of water surrounded by icy walls. Continuing in there will be a small expedition camp set up with some stray items including a copy of the Pickpocket skill book Aevar Stone-Singer. The two bandits that set it up can be found just below it slaughtered. There is a chest on a ledge with another dead bandit that can be reached by dropping from the ledge above. The tunnel leads deeper out of the ice cave into the Dwarven ruins. This portion is highly vertical and will require dropping down several stories along pipes and ledges.
The room you're descending into is a tall vertical one with a circular ramp leading down. Two leveled Falmer and a Frostbite Spider will engage you as you climb down (at higher levels, it may only be high-level Falmer). The only way forward is down a stone hallway that leads to a small intersection. Two more Falmer will ambush you from the left as you walk down the hallway. A Dwarven chest is laying in the rubble just before the turn to the north. It leads into a large dual staircase with a collapsed Dwarven Centurion. A Falmer and two more Frostbite Spiders guard the entrance into the Temple of Xrib. Again, at higher levels, the guardians may all be higher-level Falmer.
[edit]
Temple of Xrib
The Temple of Xrib is the second zone and is a mix of Dwarven ruins and snowy cave. The entrance is a stony Dwarven ruin containing a leveled Chaurus and Falmer. The entrance leads into a snowy Falmer camp and a fairly large ambush as four Falmer descend from their nests on the walls. Despite two tents and a lot of Falmer, the only thing of note in the camp are a few egg sacs that can be harvested for Chaurus Eggs and Glowing Mushrooms. The camp leads into a massive room that is visually rivaled between the sparkling opalescent ceiling and large Dwarven pyramid structure.
Falmer inhabit the entire structure and it's important to make sure that they don't retreat when low on health. On the base there is one Falmer roaming with a Chaurus. The second level has three Falmer chests and another Falmer roamer amongst a few Falmer tents. There is a lot of area that can be explored along the sides of the Dwarven structure, but they appear to be empty. Near the north side is a ramp that leads further up. A Falmer and a Chaurus patrol its path. You can find a Dwarven chest overlooking the ledge. Another Falmer stands guard at the pathway's exit. On the third level of the structure is a boss level Falmer and two Frostbite Spider minions. The whole floor emanates some type of harmless steam and a boss level Dwarven chest is sitting under some type of glowing structure. An elevator leads up to the next area and is operated by a lever.
[edit]
Abandoned Cave
The Abandoned Cave is an empty zone that merely consists of a path out of the cave system. A door bar can be removed which prevents entrance to the Temple of Xrib from this zone directly. The exit is on a ledge southwest of the drop in entrance to the system. A small path up from the exit leads to an interesting altar with some leveled weapons and armor on it. Several skeletons surround it and will reanimate as you pick them up. One of them holds a copy of the Conjuration skill book The Doors of Oblivion. This copy of the book respawns with each new skeleton, allowing multiple copies of the book to be obtained. The path will continue up directly to the Dragon Lair Mount Anthor.
Behind the Chaurus Egg cluster in the Temple of Xrib you can jump onto a small ledge that clips out of the zone. The walls are only one-way so you should be able to get back in the zone.
There is a very high tendency for companions (particularly if you have a war dog) or Falmer to become stuck in mid-air in all three locations. In the case of Falmer, this can cause them to also become impossible to cause damage to, and while in the air they will be oblivious to you. Using Unrelenting Force can knock them down, but for a short time afterwards, they seem to be immune to magic attacks.