Skyrim:Temple of Dibella
The UESPWiki – Your source for The Elder Scrolls since 1995
This article is being developed as part of the Skyrim Houses Redesign Project. If you see this tag it means the article can still be improved. Please see the project page for guidelines.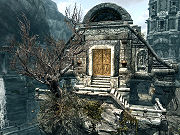 The Temple of Dibella is a small Aedric temple located in Markarth, inhabited by priestesses.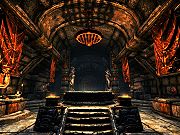 This place is a temple to Dibella, the Aedric goddess of love, beauty, and artistry. Inside, there is a regular priestess in attendance, as well as various food items, alchemical ingredients, and miscellaneous items. The temple, of course, boasts a shrine of Dibella, granting the Blessing of Dibella (a +10 bonus to Speech).
The Inner Sanctum houses the other three priestesses, as well as a multitude of alchemical ingredients, food, a few gemstones, coin purses, an unlocked treasure chest, and a bookshelf containing, among other volumes, a copy of the Illusion skill book 2920, Sun's Dawn, v2; Ghosts in the Storm; Mystery of Talara, v5; and The Tale of Dro'Zira. Being caught taking any of these items, even the books, will incur a bounty, and cause any priestesses that witness your theft to attack, unless you have completed The Heart of Dibella.
[edit]
Residents
* Only moves here after completing The Heart of Dibella
[edit]
Related Quests