Skyrim:The Ragged Flagon
The UESPWiki – Your source for The Elder Scrolls since 1995
This article is being developed as part of the Skyrim Houses Redesign Project. If you see this tag it means the article can still be improved. Please see the project page for guidelines.
The Ragged Flagon is a bar that is part of the Thieves Guild's headquarters.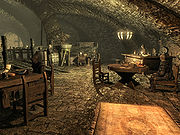 The bar is run by Vekel the Man, but the bouncer, Dirge, will take over bartender duties if anything happens to Vekel. Tonilia, the first Thieves Guild Fence, is also always found at the bar.
It is located within Riften's sewer network and can be accessed through the Ratway. After joining the Thieves Guild, quicker access becomes available through the headquarters's secret entrance, which opens from Riften directly into The Ragged Flagon - Cistern. When the secret entrance is locked later in the Thieves Guild quest line, access to the bar is still possible through the Ratway.
[edit]
Residents
[edit]
Related Quests
Note:
All
radiant
Thieves Guild quests have been omitted from the list.
[edit]
Standard Merchandise
This is the merchandise found in the bar's merchant chest. These items are only available if purchased from the merchant; they cannot be pickpocketed or stolen. They are restocked every two days. The other merchants found in the Ragged Flagon each have their own merchant chests, as detailed on their individual NPC pages.
An extra room is added to the flagon by the Unofficial Skyrim Patch. This room is located directly left of the door leading to the Ratway Vaults. It is mainly filled with beds for the those who live in the flagon, and is mistakenly blocked off by a wall in the vanilla game.