Skyrim:Vittoria Vici
The UESPWiki – Your source for The Elder Scrolls since 1995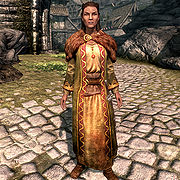 Vittoria Vici is an Imperial citizen of Solitude and the first cousin to Emperor Titus Mede II. She is also engaged to Asgeir Snow-Shod and has wedding plans that are to die for.
Once initiating the Dark Brotherhood quest Bound Until Death, Vittoria's wedding will be underway. It is seen as a precursor to end the civil war and is celebrated by many. The ceremony takes place in the courtyard of the Temple of the Divines and features a bard, food and drink, several happy guests, and a soon-to-be assassinated bride.
Before completing Bound Until Death, a small quest given by Evette San will send the player to Vittoria to convince her to release a shipment of spiced wine. Vittoria seems to be a representative of some kind for the East Empire Company. She is wealthy, respected, and important enough to attend Elenwen's party at the Thalmor Embassy.
[edit]
Related Quests
Killing Vittoria before The Spiced Wine is started will make it impossible to complete.
Once she and her housemate are assassinated, her house becomes a safe haven for the player. It is possible to loot the key off her corpse and use her house as a home if you don't want to bother spending the gold on Proudspire Manor. It's already decorated and you can safely use all the containers in the upstairs bedroom[verification needed — is this true?] but the bed cannot be used, even though it is no longer owned, because you can't sleep while trespassing.
She carries four unique items (wedding dress, wedding sandals, wedding wreath and her wedding band) at her wedding.