Skyrim:Abelone
The UESPWiki – Your source for The Elder Scrolls since 1995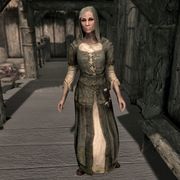 Abelone is a Nord citizen who lives and works at the Windpeak Inn. She wears a pair of boots, a set of clothes, and a cowl. She carries an iron dagger to defend herself.
Abelone starts her day at 6am by having breakfast outside of the Windpeak Inn. After taking an hour to eat, she will begin her twelve hour long workday. The next two hours of her daily schedule will have her haul firewood around, which after a break from this task she will begin anew at 11am. At noon, she will break for lunch for another hour once again on the bench outside of the inn. After several hours of idle tasks, Abelone will return to firewood hauling between 3pm and 5pm. She will finally call it a day at 7pm, at which time she will take another hour for her dinner. After having a dinner outside of the inn, she will head inside for the night. Between 8pm and 11pm, she may socialize with the other patrons, have a late snack, wander around the premises, or go to bed early. At 11pm, she will call it a day and head to her bed, to begin her day anew at 6am.
Speaking to Abelone while she is working outside will have her suggest that you head inside the inn: "I work for the Windpeak Inn. You should head on inside." Continuing to prod her for conversation will have her suggest you speak to her superior, Thoring: "Thoring runs the inn. Speak to him."