Skyrim:Ahtar
The UESPWiki – Your source for The Elder Scrolls since 1995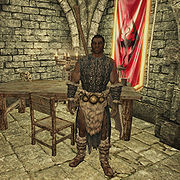 Ahtar is a Redguard warrior in Solitude, where he is the executioner or headsman as well as head jailer. He can be found in Jala's house or in the Castle Dour Dungeon, in the room just before the area that holds the evidence and belongings chests. He is not initially hostile while attempting a breakout, if being arrested and imprisoned.
The easiest way to find him is when the player first enters Solitude, and he is performing the execution of Roggvir. Don't walk up onto the platform until the execution sequence ends, or the guards will become hostile.
He will often give the player a warning by saying "Mind yourself in my city, friend. This here axe in full swing is a right terrible sight..."and "You stay out of trouble, now. The Castle Dour dungeon can break even the strongest will."
He also claims that being a jailor is rather easy: "Not much work being a jailor. Long as you can ignore the pleading and all that. Ain't many visitors come to the dungeon. Every now and then Sybille Stentor will come by looking for... volunteers."
The player can recruit Ahtar as a follower after completing his quest to deal with the Marauder leader of Broken Oar Grotto. However, if you kill Captain Hargar by finishing the quest Lights Out! from Jaree-Ra or by cleaning out that cave without quest, he can no longer give you the quest Kill the Bandit Leader and will not be available as a follower. His quest may also be unavailable if you accept a Bounty quest for Broken Oar Grotto.
Ahtar is equipped with a rare weapon, the Headsman's Axe, and wears Executioner's Robes which cannot be taken from him even in the event of his death, though like other followers he will equip better armor if you give it to him.
Ahtar carries the Key to Jala's House and the Castle Dour Dungeon Key which can be freely taken from him if he is a follower. As with most citizens, he also carries random, leveled "pocket" items (gold, food, jewelry).
[edit]
Related Quests
Ahtar can be recruited to join the Blades.
If Captain Hargar is dead, it may still be possible to gain Ahtar as a follower, however you may need to try repeatedly in order for it to work. Drop a piece of armor in front of Ahtar. Rarely, he may come up to the player asking if he can keep the dropped armor. If the player allows him to have it, Ahtar will regard the player favorably, thereby activating the dialogue option to gain him as a follower.
Being an executioner, Ahtar can decapitate enemies.