Skyrim:Ainethach
The UESPWiki – Your source for The Elder Scrolls since 1995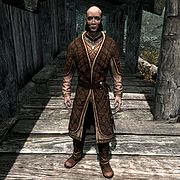 Ainethach is a Breton miner and the owner of Karthwasten and its two mines, Sanuarach Mine and Fenn's Gulch Mine. He has a son named Rondach who works in Understone Keep as the chef's assistant.
As one of the few non-Nords to own land in the Reach, Ainethach is frequently hassled by both native Reachmen and Nords of Markarth, who both accuse him of having a secret agenda against their respective people. His mine also makes him a target for the machinations of Thonar Silver-Blood, the leader of the Reach's wealthiest and most influential family. The player encounters him during one such time, as mercenaries hired by the Silver-Bloods, led by Atar, are trying to force him to sell the mine by shutting it down under the pretext of Forsworn activity nearby. The player can either aid Ainethach by getting rid of the mercenaries or convince Ainethach to sell his mine to the Silver-Bloods.
Ainethach wears a set of fine clothes and a pair of fine boots. He is also equipped with a steel dagger and carries a key to Karthwasten Hall and a selection of higher-class loot and gold.
Upon raising his disposition, he will become a potential candidate for marriage.
[edit]
Related Quests