Skyrim:Amren's House
The UESPWiki – Your source for The Elder Scrolls since 1995
This article is being developed as part of the Skyrim Houses Redesign Project. If you see this tag it means the article can still be improved. Please see the project page for guidelines.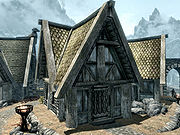 Amren's House is a house in Whiterun where Amren lives with his wife Saffir and daughter Braith.
The house is located in the Wind District of Whiterun, it is the second house on the right after ascending the steps to the left of the main gate. There are two floors with no discernable room markings, as such the first floor is used as the kitchen, dining room, sitting room, and main bedroom. The second floor is a small area and serves only as Braith's bedroom.
On the first floor there is a cooking pot, an owned double bed, an end table, a dresser, a cupboard, a fish barrel, a barrel and multiple sacks. There are two tables with only two seats at each, which prevents the full family having a meal together. There is also a small amount of general food items and hanging under the stairs, four dried elves ear and three garlic buds. On the second floor there is an owned single bed, an end table and a chest.
Saffir will almost always stay indoors, constantly talking about her love of books. Despite this she does not spend all her time reading, she will alternate between cooking, eating, drinking, and, of course, reading. Attempting to talk with her will alternate her comments between her books, and Braith, even saying that her child should learn to care of herself.
Amren and Braith will return home at 6pm to eat dinner, whereupon Amren moves to and uses the cooking pot as soon as he enters, while Saffir and Braith sit down. Amren and Braith go to bed at 8pm but Saffir only follows suit at 10pm. At 11pm Amren will leave to join a few other residents in The Drunken Huntsman, and return to bed at 2am. Everyone wakes at 8am and resumes their daily activities.
After completing Amren's quest to retrieve his family sword, all low level items in the house become free to take, and both beds become usable.
[edit]
NPCs Living Here
[edit]
Related Quests
NOTE:
Some radiant quests have a sizeable list of possible locations. These quests are not placed on individual place pages, and are instead listed at
radiant quest locations
.
The door is locked with a novice lock.
The key to the house is carried by Amren and Saffir.
Amren's house is marked with a "Danger" shadowmark, to the left of the door near the ground. The reason for the danger shadowmark is that the owner, Amren, is highly trained in One-handed fighting.