Skyrim:Angeline's Aromatics
The UESPWiki – Your source for The Elder Scrolls since 1995
This article is being developed as part of the Skyrim Houses Redesign Project. If you see this tag it means the article can still be improved. Please see the project page for guidelines.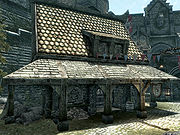 Angeline's Aromatics is an alchemy shop in Solitude. The proprietor, Angeline Morrard, trades potions, food, ingredients, and books, and has 500 base gold. If anything happens to Angeline, her niece, Vivienne Onis, runs the store in her place.
[edit]
NPCs Living Here
[edit]
Displayed Merchandise
The following items are sitting out in the store, for example on the store counters. They can be purchased from the merchant, or else can be stolen. Only items players are likely to want to purchase are listed. Other items may also be present in the store, but they are not available for purchase. They respawn after ten days.
[edit]
Standard Merchandise
This is the merchandise found in the store's merchant chest. These items are only available if purchased from the merchant; they cannot be pickpocketed or stolen. They are restocked every two days.
When investing gold in Angeline's store, the chat option does not disappear. Therefore it is possible to invest repeatedly in her shop. However, because of the way the script works, she does not retain this gold. Consequently it is impossible for her base gold to be raised by the investing perk.