Skyrim:Angrenor Once-Honored
The UESPWiki – Your source for The Elder Scrolls since 1995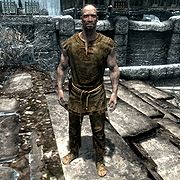 Angrenor is a Nord beggar who was a former member of the Stormcloaks. Upon raising his disposition, he will become a potential candidate for marriage.
Upon entering Windhelm for the first time, the player will witness Angrenor and his counterpart Rolff Stone-Fist harassing a Dunmer woman and accusing her of being an Imperial spy, making no attempt to conceal their disdain for elves. However, unlike Rolff, he does not make mention of his hatred when spoken to normally, but begs for coin instead. He will sometimes say: "I was one of the best soldiers in the Stormcloak army, until I took a sword through the chest."
He wears a set of prison clothes, a roughspun tunic with footwraps. He carries an iron mace and a selection of lower-class items.
[edit]
Related Quests
Once married, Angrenor will still beg for money, even if he is living at your home.
After completing the quest Innocence Lost he carries around a key to the Aretino Residence. He should have moved into the house after the quest, but the scripting is incomplete.