Skyrim:Arch-Mage's Quarters
The UESPWiki – Your source for The Elder Scrolls since 1995
This article is being developed as part of the Skyrim Houses Redesign Project. If you see this tag it means the article can still be improved. Please see the project page for guidelines.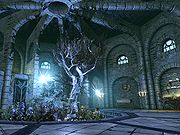 The Arch-Mage's Quarters is the area within the College of Winterhold in which its current Arch-Mage resides.
The room contains an arcane enchanter and an alchemy lab that can be freely used. There are also plenty of soul gems, many alchemical ingredients, and a central garden area containing many plants that can be harvested. However, taking any of these items is considered stealing until you become the Arch-Mage, although taking them in plain sight does not incur a bounty.
[edit]
Related Quests
Sleeping in the bed as Arch-Mage will not result in being well rested.
Taking some items in chests while Arch-Mage will still count as stealing. ?