Skyrim:Argonian Assemblage
The UESPWiki – Your source for The Elder Scrolls since 1995
This article is being developed as part of the Skyrim Houses Redesign Project. If you see this tag it means the article can still be improved. Please see the project page for guidelines.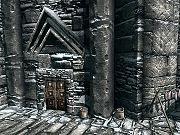 The Argonian Assemblage is the building on the docks of Windhelm in which all the Argonian dockworkers are forced to live.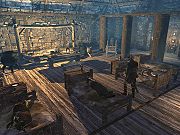 "They must remain outside, for their own safety." —Jarl Brunwulf Free-Winter
Both inside and out, the Argonian Assemblage is dark and in disrepair; a perfect place for the prejudiced and proud Nords of Windhelm to keep their unwanted Argonian workers. Just outside of the assemblage is little more than a view of the frozen landscape. To the northeast of door is a wooden rack of harvestable salmon, and to the west is the office of clan Shatter-Shield. On the docks of the cold, windy city of Windhelm, there is a grindstone, tanning rack, and a workbench available for you to use. During the day, the occupants of the assemblage work there, no matter the weather conditions.
At the end of the work day, they retire to their shared living quarters. Inside, there is not much to look at. Cobwebs hang from the ceiling, and a dull fire burns under empty cooking pots. There are four beds, one for each resident of the assemblage. There are a few dressers and wardrobes, containing some random articles of clothing, miscellaneous items, and small amounts of gold. An "Empty" shadowmark is just outside the entrance, marking it as a place of no notable loot. Ironically, a copy of the Pickpocket skill book Thief can be found inside. Also, three of the four reptilian residents offer quests, which have their own useful rewards.
[edit]
NPCs Living Here
[edit]
Related Quests
This is a good place to train Lockpicking because the master-level lock on the door resets often.

Because of this, it seems Scouts-Many-Marshes and Stands-In-Shallows become trapped inside after turning in for the night, and cannot come out the next day unless the door is unlocked by you.

Even if you are an Argonian, you will still receive a bounty for trespassing unless you are married to one of the residents.
There is an "Empty" shadowmark to the bottom left of the entrance door.