Skyrim:Auriel's Bow
The UESPWiki – Your source for The Elder Scrolls since 1995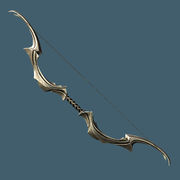 Auriel's Bow is a powerful bow allegedly created and used by the elven god Auri-El. It is received from Gelebor during the quest Touching the Sky. Shooting the sun using Auriel's Bow with Bloodcursed Elven Arrows will block out the sun until the following morning, negating its negative effects on vampires for the duration.
Additionally, shooting the sun with Sunhallowed Elven Arrows will cause the sun to shoot out rays of light at nearby enemies in a similar fashion to Storm Call.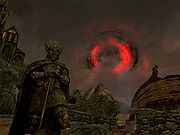 [edit]
Related Quests
[edit]
Achievements
One achievement is related to Auriel's Bow:
[edit]
See Also
For more information, see the lore article.