Skyrim:Bard's Leap Summit
The UESPWiki – Your source for The Elder Scrolls since 1995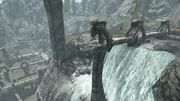 Bard's Leap Summit is a wooden plank at the very top of Lost Valley Redoubt.
After fighting your way through a group of Forsworn to get to the top of the ruins, you will see a walkway extending over the edge of a waterfall. If you jump off the walkway into the pool below and survive, a ghost named Azzadal will appear. He will tell you that he attempted the jump as well, but that he obviously failed to survive it. He will then play you a song that will increase your speech skill by two points. After the initial jump, Azzadal will not appear again and the speech bonus will not be granted.
One way to survive the leap is by becoming ethereal before stepping off. The shout for this is learned at the nearby word wall. Another way is to charge off the end, either normally, with the whirlwind sprint shout, or jumping at the last moment while running normally, thus landing in the water that is just deep enough to survive.
If you fast travel here, your current horse, if any, will spawn off the side of the plank and fall.