Skyrim:Bassianus Axius
The UESPWiki – Your source for The Elder Scrolls since 1995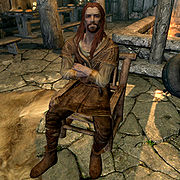 Bassianus Axius is a Nord citizen and a resident of Ivarstead. He spends his days at the Vilemyr Inn.
A lover of Fastred, Bassianus' desire is for both of them to leave for Riften against the wishes of Fastred's father, Jofthor. In an overheard conversation with Wilhelm, he reveals he is not ready to leave with Fastred, saying Klimmek still has much to learn. In truth, he is afraid of what Jofthor would do to him if he eloped with Fastred.
After completion of the quest The Book of Love, he will move to Riften, though the choices made by the player in completing his portion of the quest will determine whether or not Fastred accompanies him. Because he has no house there, he will then spend much of his time in the marketplace, particularly outside Temple of Mara and Balimund's forge. What's more, he will never sleep during the night.
He wears a belted tunic and a pair of boots. He is equipped with a leveled dagger which can be up to Elven quality, and carries a key to Klimmek's house, as well as a selection of common loot and gold.
[edit]
Related Quests