Skyrim:Battle-Born Farm
The UESPWiki – Your source for The Elder Scrolls since 1995
This article is being developed as part of the Skyrim Houses Redesign Project. If you see this tag it means the article can still be improved. Please see the project page for guidelines.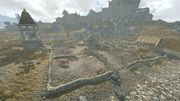 Battle-Born Farm is a farm just outside Whiterun, owned by the Battle-Born clan who are influential in the city.
Alfhild and Gwendolyn tend the farm. Alfhild will buy leeks and gourds for 1 gold apiece, and wheat for 5 gold apiece through dialogue.
The farm contains ten leek plants, five gourd plants, six wheat plants and two chicken nests. Lavender plants, a quicksilver ore vein, two corundum ore veins and an iron ore vein can be found nearby as well.
This farm has a grain mill, tanning rack, wood chopping block, and a grindstone for use.
[edit]
Residents
[edit]
Exterior
| Crops | Plants | Animals | Other |
| --- | --- | --- | --- |
| | | | |
[edit]
Related Quests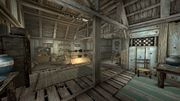 One corundum ore vein and one quicksilver ore vein are located north of the farm, near the back exit from the Underforge.
One corundum ore vein is located northeast of the farm across the road among some rocks on the ground.
Though you can find and activate a grain mill here, it will only lead to an animation, with no actual function in the game.
The guard outside the farm will not be replaced should the Stormcloaks take Whiterun.