Skyrim:Beitild
The UESPWiki – Your source for The Elder Scrolls since 1995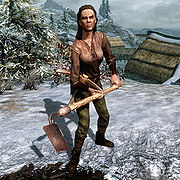 Beitild is a Nord miner who owns a mine in Dawnstar.
She is very proud of her mine and she will make this clear by saying things like "I own Iron-Breaker Mine. We make twice as much coin as those horkers over in Quicksilver Mine, and don't let anyone tell you otherwise." and "Iron-Breaker Mine is three times the worth of that Quicksilver Mine and its fat-head owner." However, she is also very critical of her employees and she will show this by remarking "My miners are as dumb as rocks are grey."
She used to be married to Leigelf, owner of Quicksilver Mine.
She wears a set of miner's clothes and a pair of boots, and is equipped with a pickaxe. She carries a key to her house and a selection of common loot and gold.
[edit]
Related Quests
If Leigelf dies, she may remark about it when approached: "My husband Leigelf is dead. I... I never thought I would miss that oaf so much."