Skyrim:Belethor's General Goods
The UESPWiki – Your source for The Elder Scrolls since 1995
This article is being developed as part of the Skyrim Houses Redesign Project. If you see this tag it means the article can still be improved. Please see the project page for guidelines.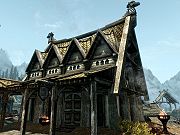 Belethor's General Goods is a store in Whiterun's market area. The shop is open during normal business hours (9am to 8pm). As a general goods merchant, Belethor buys and sells any type of item. His assistant Sigurd helps out around the shop, sometimes outside chopping wood.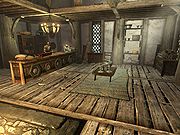 [edit]
NPCs Living Here
[edit]
Displayed Merchandise
The following items are sitting out in the store, for example on the store counters. They can be purchased from the merchant, or else can be stolen. Other items may also be present in the store, but those other items are not available for purchase. They respawn after ten days.
Food: 1 Goat Cheese Wheel, 2 Leek, 3 Potato, 6 Red Apple, 1 Sliced Eidar Cheese, 5 Tomato
Books: 1 Begger Prince, 1 Biography of Barenziah v1, v2, v3, 1 Fall from Glory, 1 Nightingales: Fact or Fiction?, 1 Uncommon Taste
Misc: 1 Candlestick, 1 Cave Bear Pelt, 1 Goblet, 1 Horker Tusk, 2 Jug, 1 Pot, 1 Tankard, 1 Troll Skull
[edit]
Standard Merchandise
This is the merchandise found in Belethor's merchant chest. These items are only available if purchased from the merchant; they cannot be pickpocketed or stolen. They are restocked every two days.
The business ledger and the strongbox, which has an apprentice-level lock, can be found upstairs.
On a shelf to left of counter, next to a sack, is a copy of the Speech skill book Biography of the Wolf Queen.
There is a "Loot" shadowmark to the right of the entrance door.
The game has a preference for the rear door; even if you enter via the door from the market, your follower will enter using the other door, and all quest targets outside the shop will point to the rear door.