Skyrim:Bersi Honey-Hand
The UESPWiki – Your source for The Elder Scrolls since 1995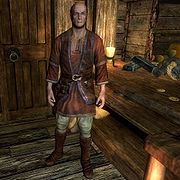 Bersi Honey-Hand is the Nord owner and vendor of the general goods store Pawned Prawn in Riften. His wife Drifa lives in the store with him. A former sailor, Bersi used to own a fishing boat, which he named the Brawny Prawn. After selling his boat, he named his shop to commemorate his former life.
Like many other citizens of Riften, Bersi is concerned about the rampant corruption within the city. Unlike most, he believes in improving the morality of the citizens through worship at the Temple of Mara. This has earned him the ridicule of many other citizens, who are convinced that the corruption runs too deep to be removed with prayers. His efforts to spread the teachings of Mara often bother his wife, who often laments "My husband Bersi will be the death of me. He spends too much time worrying about the city, and not enough about himself."
During the Thieves Guild quest Taking Care of Business, the player is sent to retrieve protection money that Bersi owes the guild. He will agree to pay after being beaten in a brawl or after the player destroys one of his prized possessions, a Dwemer urn.
[edit]
Related Quests
[edit]
Dialogue
Bersi may be seen having random conversations with his wife Drifa:
Bersi Honey-Hand: "Drifa? I was looking through our books and there's an entry for "spices." [sic] Says we spent 300 septims. What is that?"
Drifa: "Spices? I'm certain I have no idea what you're talking about."
Bersi Honey-Hand: "You sure? It was in your handwriting. If you can't keep the books straight then let me do them."
Drifa: "Oh, yes... spices. That was a special order for someone in Whiterun. Should be along any day now. Don't let it worry you, my dear."
In Patch 1.5 Bersi was added to a new CR08ExclusionFaction, preventing him from being a radiantly-selected victim for the Rescue Mission quest.
If Drifa is killed, Bersi can sometimes be seen wearing an Amulet of Mara.