Skyrim:Betrid Silver-Blood
The UESPWiki – Your source for The Elder Scrolls since 1995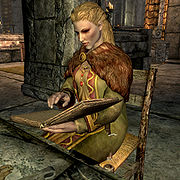 Betrid is a Nord citizen who lives in Markarth at the Treasury House. She can be heard bragging about her husband Thonar's importance. When approached, she makes their relationship clear. All her time is spent reading in a chair at the Treasury House. She is killed in a scripted death by Nana Ildene during The Forsworn Conspiracy after you question to Thonar.
Betrid's death can be avoided by pickpocketing and reading Thonar's journal instead of questioning him. This will also prevent the deaths of Nana Ildene and Donnel since they wont become hostile.
She wears a set of fine clothes and a pair of fine boots, and is equipped with an iron dagger. She carries a key to the Treasury House and a selection of higher-class loot and gold.
[edit]
Quotes
Player: "You're an important family, I take it?"
Betrid: "My dear vagrant, we're the only family worth knowing in Markarth. We own everything in this city, even the jail. And guess who owns the Silver-Blood Inn? Not that we named it that, the people just insisted."
Player: "You're married to Thonar? What's he like?"
Betrid: "He's the real head of this family. He may not be the eldest, but all the work that keeps us respected is handled by my Thonar."
[edit]
Related Quests