Skyrim:Bleakcoast Cave
The UESPWiki – Your source for The Elder Scrolls since 1995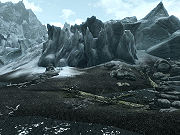 Bleakcoast Cave is a small ice cave containing frost trolls, located southeast of Winterhold and directly east of the Shrine of Azura.
[edit]
Related Quests
[edit]
Bleakcoast Cave
[edit]
Exterior
The exterior of the cave more than explains the name with its dreary landscape and wood debris. An iron ore vein can be found to the north of the entrance, on the shoreline, and a nirnroot grows nearby to the south. Skeletal remains are strewn about the outside of the cave; evidence of a large carnivore inside.
[edit]
Interior
The cave's circular main chamber holds two frost trolls and the grisly remains of the trolls' meals, but nothing of interest. A third frost troll is in the smaller chamber to the west. Here also are the corpses of a novice conjurer and a bandit. On the novice's corpse you'll find a copy of the Two-handed skill book Battle of Sancre Tor. Next to him is an alchemist's satchel covered in blood. Another ancillary chamber is to the north. A leveled, enchanted greatsword is lying across your path, and a skeletal torso is suspended, upside down from the ceiling. A fourth frost troll is in the chamber ahead along with a dead Khajiit next to a coin purse.
South of the cave entrance, a lonely hunter's camp can be seen across the water. The camp contains little of note, except a coin purse, some horker products, an unowned horse, and a copy of the Light Armor skill book Rislav The Righteous.