Skyrim:Bloodline
The UESPWiki – Your source for The Elder Scrolls since 1995
This page is currently being rewritten as part of the Skyrim Quest Redesign Project.
The page is being rewritten and checked in several stages. All users are welcome to make changes to the page. If you make a change that is relevant to the project, please update this template accordingly, and make sure you have observed the project guidelines.


[edit]
Quick Walkthrough
Escort Serana to Castle Volkihar.
Speak to Lord Harkon.
[edit]
Detailed Walkthrough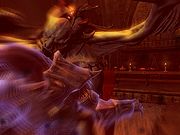 Once Serana has followed you, she asks you to take her to her father at Castle Volkihar. The location itself is in the northwest corner of the map. You will be able to see it from a large distance away. The easiest way to get there is to take the boat at Icewater Jetty, reachable on foot, by fast travel, or by hiring a ferryman to take you there. Before you get into the Castle, Serana will talk to you, she wants you to pay attention to your behavior and let her do the talking. The Watchman will open the gate when he sees his lady. Once there, follow Serana into the castle, where her father is waiting. During this time, you can't draw your weapon, cast a spell, shout or do anything aggressive. However, you are free to take anything in the keep without it being identified as thievery. Talk to Lord Harkon and he will tell you there is only one thing he can give you in the way of gratitude: his blood. You now have a choice to make. You can stick with the Dawnguard and you will be allowed to leave the castle in peace for your service, or you can join the Volkihar vampire clan and take on the mantle of a Vampire Lord.
[edit]
Choosing Vampire Lord
If you choose to become a Vampire Lord, Harkon will bite you as everything fades out. When you wake up, you and Harkon will be in the Volkihar Cathedral. Harkon will begin teaching you how to use your Vampire Lord powers, which include raising dead and draining life, as well as a claw attack. He also explains a few things if you ask him about them. If you are already a vampire, he will say you just contracted a disease and explain that what he offers you is true vampirism. Alternatively, if you happen to be a werewolf at the time, he will state that he can smell it on you, and can purge you of its filth. Once you are done getting acquainted with your new powers, you will be given a quest to fill The Bloodstone Chalice.
[edit]
Choosing Dawnguard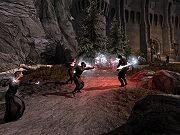 If you decide to stick with the Dawnguard and refuse his offer, Lord Harkon will cast a spell that will teleport you outside the Castle gate. He also "advises" you to never return. With the castle locked behind you, your only remaining option is to return to Fort Dawnguard and report this new discovery to the Dawnguard. Once you arrive, you will find the fortress under attack by a band of vampires. After defeating the vampire attackers, you should speak to Isran and tell him what you discovered. Following this report, he will give you the duty of seeking out some of his old allies to create A New Order. Following the Dawnguard side of the questline will cause Fort Dawnguard to be rebuilt and refurnished. You will also have access to Crossbow upgrades and Armored Trolls.
You can still become a Vampire Lord if you choose to side with the Dawnguard, though it will not be possible until later in Dawnguard's main questline.
If you exit the conversation when Lord Harkon tells you to make your choice, and take too long to give an answer, he will banish you from the castle as if you chose to refuse his gift.
If you are a werewolf, siding with Lord Harkon will cure your Lycanthropy. However, you can become a werewolf again if you cure your vampirism, and any Lycanthropy perks which you had will be restored.
If you try to bring Serana to Fort Dawnguard, she will refuse to go near it, having "a bad feeling about this place". Isran will tell you to do as she asked in order to discover what it is all about, even if you tell him she's a vampire.
If you have already discovered Castle Volkihar, then after speaking to Serana for the first time when she is released from the sarcophagus she will automatically initiate dialogue with you that normally occurs shortly after arriving at Castle Volkihar. This may prevent you from entering the castle and continuing the quest. ?
Harkon may equip the Banish spell, but just stand and stare at you if you refuse to become a vampire. ?
After speaking with Harkon about accepting his gift, he may not transform. If you approach him and talk to him again, he will continue to repeat the same introduction dialog. ?
After speaking with Harkon about accepting his gift, he may not transform, instead simply standing there. If you approach him and talk to him again, he will make noises ("Yeargh") and still not transform. ?

Start a new game WITHOUT Dawnguard installed (don't enable Dawnguard for NMM users), Save, Exit the game, Install Dawnguard (enable Dawnguard for NMM users), Start the savegame previuosly made without Dawnguard and the bug will not appear in that Save. This procedure not allow to remove the bug from other savegames made with Dawnguard Installed (Enabled). (Tested with Nexus Mod Manager for an easy uninstallation/installation of Dawnguard)
Reload to a save after entering DimHollow Crypt, wait 30 days, then proceed with the quest. this resets all dungeons, characters, etc... this also fixes the bug where you die after being bitten by Harkon.

If you choose to accept Harkon's gift, you may die when he bites you and be forced to go back to your last save. ?
After accepting Harkon's gift and transforming into a Vampire Lord, you may be permanently frozen, unable to move at all.
After your vampire induction the other vampires in the castle will treat you as a mortal (This seems to happen because exiting the Vampire Lord form reverts the race of the player to what he was before being transformed, and you cannot revert back without using Revert Form, so there is no way around this bug!), and attack if you transform into a Vampire Lord in front of them (It is the act of transforming that seems to cause the other vampires to become hostile. You can still become a Vampire Lord at a distance and then approach the other vampires without them attacking you, but it does not solve the conversation "treated as mortal" issue). Since you cannot start conversations while in Vampire Lord form (same as with Beast Blood), it is thus impossible to start the next quest since you cannot talk to anyone to receive quests.

This bug likely happens when using custom mods such as Lunari, yNord, etc. The only way to progress is using the console command setstage dlc1vampirebaseintro [stage].

When leaving the castle after becoming a Vampire Lord, you may be attacked by the entire castle. ?

This bug may be due to using mods that alter followers behavior. If you can't enter the castle the first time with Serana you can use the console to move in, open the console and type player.moveto 020033b3, prid 02002B74, moveto player and move back to the door. That way the quest remains untouched.
You can also change to your human form, go into sneak mode, and type tcl in the console to reach the door to Skyrim undetected. After you exit the castle you may enter again as normal.

If you refuse Harkon's gift and are returned to the boat landing, the quest A New Order may fail to start. ?

You can fix this by entering setstage DLC1HunterBaseIntro 20 into the console.

If you have a follower along, after you are banished from Castle Volkihar, they may be stuck between the portcullis and front door of the castle when you wake up outside. If you tell them to wait before going in, they may be gone after you're banished. ?
When you go to the castle and all vampires attack you just write in the console tdetect and they won t attack you but remember when you go out the castle just turn it off writing tdetect again in the console
[edit]
Quest Stages
Bloodline (DLC1VQ02)
Stage
Finishes Quest
Journal Entry
5
While exploring Dimhollow Crypt, I freed a young woman from an ancient sarcophagus. She asked me to guide her home, to a castle off the northern coast of Skyrim.


(Objective is assigned): Lead Serana to her home

10
(Objective is assigned): Speak to Harkon
20
I learned that the mysterious woman I freed from Dimhollow Crypt is named Serana. Her father Harkon is a powerful vampire lord, and in gratitude for bringing his daughter home, he offered me the gift of his blood. Now I must choose whether to accept the gift.
25
When I brought Serana back home after freeing her from Dimhollow Crypt, her father, a powerful vampire lord, offered me the gift of his blood. I refused the gift, and was banished. Now I must return to Vigilant Tolan and tell him what happened.
30
When I brought Serana back home after freeing her from Dimhollow Crypt, her father, a powerful vampire lord, offered me the gift of his blood. I refused the gift, and was banished. Now I should return to Isran and tell him what happened.
40
When I brought Serana back home after freeing her from Dimhollow Crypt, her father, a powerful vampire lord, offered me the gift of his blood. I accepted the gift and joined his court.
180
When I brought Serana back home after freeing her from Dimhollow Crypt, her father, a powerful vampire lord, offered me the gift of his blood. I accepted the gift and joined his court.
190
When I brought Serana back home after freeing her from Dimhollow Crypt, her father, a powerful vampire lord, offered me the gift of his blood. I refused the gift, and was banished. I returned to Isran and told him what happened.
200
The following empty quest stages were omitted from the table: 0, 6, 7, 8, 9, 15