Skyrim:Bolli's House
The UESPWiki – Your source for The Elder Scrolls since 1995
This article is being developed as part of the Skyrim Houses Redesign Project. If you see this tag it means the article can still be improved. Please see the project page for guidelines.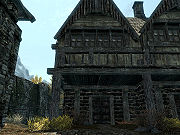 Bolli's House is a small, two story house with a cellar, near the city gates in Riften. It is owned by Bolli, who lives there with his wife Nivenor.
[edit]
First Floor
To the left of the entrance is a cooking pot, a small table with some baked potatoes, grilled leeks, two salmon steaks, bread, an eidar cheese wedge, wine, two wooden plates, and two tankards on it. Two chairs are next to the table. On the other side is a large end table and a chair. At the end of the room is a barrel and two sets of stairs, one leading to the second floor, the other leading to the basement.
[edit]
Second Floor
Behind the stairs, at the top, are some barrels and baskets. Through the doorway, along the wall, is a chest and a wardrobe. At the foot of the bed is a dresser with a note titled Requested Report which reveals that Bolli thinks his wife is cheating on him. Two chairs sit around a fire and next to it is a basket which hold three pieces of firewood.
[edit]
Basement
To the right of the stairs leading down is a cupboard with several cast iron pots on it. In the corner is a table with a Nord mead on it, a pheasant underneath it, two salmon hanging over it, and two rabbits hanging over it. On the shelves next to it are several cheeses, potatoes, and some other items. In the small room are some barrels, brooms, and baskets.
[edit]
NPCs Living Here
There is a "Loot" shadowmark to the left of the entrance door. Through the doorway on the second floor, there is a chest along the wall.