Skyrim:Bonechill Passage
The UESPWiki – Your source for The Elder Scrolls since 1995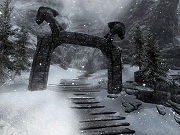 Bonechill Passage is a small cave east of Falkreath containing monsters.
The cave itself is a short iced over passageway leading to Ancient's Ascent.
Snow-filled winds rip through the cave helping to mask the presence of the snow beasts within. Although only consisting of a few small rooms, an ice wraith, frost troll and snowy sabre cat are likely to be encountered. A few pieces of stray loot can be found about the bodies and skeletons littering the floors, including a copy of the Heavy Armor skill book 2920, MidYear, v6 next to a knapsack in the first room. The cave is mostly used as passageway to the dragon's lair, but isn't necessary to reach it. It is located to the southwest of Helgen.
There is a vein of silver ore just west of the base of the steps leading to the entrance.
[edit]
Nearby House
If you follow the path to the northwest of the cave, you can find a small house that was attacked by the dragon that lives at the Ascent. A note to the authorities reveals that the owner assumed that if the dragon was simply ignored it would leave them alone. Two charred corpses can be found outside, presumably proving him deadly wrong. A copy of the Pickpocket skill book Purloined Shadows is laying underneath his bed.
[edit]
Related Quests